Plasma Rentals Up Over 200% for Trade Shows, Conferences and Conventions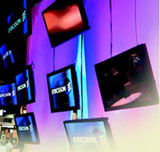 Plasma Flat Screen Display Monitors are everywhere at trade shows, conferences and conventions. And getting one is as easy as contacting a Tech Travel Agent!
Trade Show Organizers are renting floor standing and wall mounted plasmas to enhance their image as well as inform visitors of upcoming events and trade show floor mapping.
Plasma displays create a high quality image for corporate events and rentals of these types of display rentals are up over 200% year over year.
Rentacomputer.com Tech Travel Agent Darcy Mann says that Large Plasma Flat Panel Display Rental requests are up over 200% for her this year. "People are especially renting plasmas for conventions and trade shows in Las Vegas, Chicago and Orlando. Cities with convention centers tend to rent the most plasma flat screens."
Trade Show Exhibitors especially are opting to rent 42" and Larger Flat Panel Plasma displays for their trade show booths.
"Large 42" Plasma's are a very, very popular thing to rent for trade show booths. People have elaborate PowerPoint presentations that look excellent on our floor standing plasma display rental unit. It's right in your face marketing for everyone passing by your trade show booth." Janine Foster, Tech Travel Agent for Rentacomputer.com.
Plasma displays create the highest quality image available for corporate events such as conventions and conferences. Plasma screens play full motion video with the highest quality possible. But plasma displays carry additional risk and inconvenience during transport. That's why its best to rent plasmas for your trade show, convention or conference.
"Plasma Rentals is the most cost effective option for Trade Shows," said Tony Cipallone, Tech Travel Agent for Rentacomputer.com.
Even if you attend more than one trade show per month, the costs of deployment, insurance and frequent replacement make renting plasma flat screen displays a convenient and viable option.
"Gaming Conventions like the large 42" plasma displays for the games. They also use Plasma displays with our DVR System (Digital Video Recorder) to to show live video feeds from up 16 game areas on one screen." said Bill Schiering, Tech Travel Agent for CameraSecurityNow.com, 877-422-1907. Large screen rental make an excellent addition to any gaming convention. Rent complete CCTV DVR Systems! Keep an eye on your valuable equipment and make your gaming convention special.