Tech Travel Agents© will book Temporary Office Equipment for Temporary Offices
There is an easier way to setup a temporary office. Hire a Tech Travel Agent© from Rentacomputer.com.
Don't settle for inferrior or fake office equipment, get all the office equipment you need for a temporary office can be handled by a Tech Travel Agent©.
Office equipment available for rent includes: computer rentals, copiers rentals, printer rentals, even wireless laptop rentals.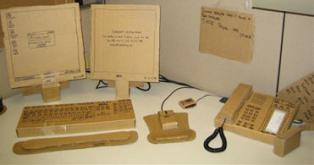 Tech Travel Agents employ an army of computer engineers, technicians, audio visual technicians, equipment installers and technology event coordinators.

Photo: Fake Office Equipment

Any project, no matter the size, scope or location, can be handled efficiently and cost effectively with the least amount of effort on your part. Projector Rentals are great for employee training and presentations.

A comprehensive, coordinated and well-documented procedure helps you know the overall plan before during and after any company event or project. One point of contact, one vendor, itemized invoices and summary reports are standard on all jobs.
Tech Travel Agents© recommend wireless laptop computers based on Intel Centrino for greater processing power, wireless internet, and optimized battery life. Tablet PCs are also available for rent.
Contact a Tech Travel Agent© for your next company project or computer rental. Call toll free 800-736-8772 or email: TechTravelAgent@Rentacomputer.com