Computer Rentals: The Best Classroom Computer Training Solution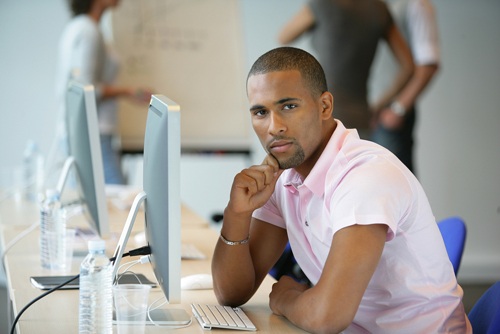 "Desktop computers, av equipment such as sound systems and projectors are the easiest and most cost efficient way to coordinate corporate training efforts while preserving capitol resources." Dr. James, Computer Trainer in the Medical Field
by John Beagle
Renting Puts State-of-the-Art Training Equipment In Your Trainees Hands
If your company bought all the equipment needed for a computer training session how long would it stay up to date? Renting means new equipment, state-of-the-art equipment and consistency in computer configurations. You can even specify the same model, monitor and keyboard for every user.
Stay Focused
Your Tech Travel Agent coordinates everything technical so you can concentrate on preparing for your training program. Have extra time to create training handouts and Microsoft PowerPoint presentations.

Trainers become technicians very quickly when company owned training computer equipment doesn't work properly.

Company training planners and organizers know how difficult it can be to 'work out the bugs' before, during and after each training program. Execution is the key to training results and efficiencies. If 20% of the computers don't work, you can have a training disaster on your hands.

Calculate all the Costs
Add up all the costs and distractions from your computer training goals. Put a value on your time, say $100 per hour. Now multiply the time you and your staff spent on hardware setup, software installation, pre-testing, delivery, installation, maintenance and pickup of the equipment at the end of the training class.

10 Tasks for Computer Classroom Setup
Here are 10 common tasks that need to be accomplished when setting up a computer training session:

1. Image (copy) the same versions of operating systems and training software on all training computers.
2. Install wires or wireless devices for sound system, projectors, printers
3. Install network routers, switches and cables
4. Tape down all wires for student safety
5. Test network, av equipment, and other instructor equipment
6. Test each student computer, verify software installation works properly
7. Troubleshoot, diagnose and fix all installation problems
8. Provide Technical services during training
9. Have spare computer equipment just in case.
10. At the end of the computer training, disconnect, pickup and return all the equipment to various locations in your company.

100 or 1000 Man Hours?
How many hours would it take for you and your company's staff to accomplish the 10 classroom training setup, service and teardown services listed above?

You Need Expert Help
Tech Travel Agents are experts in getting the classroom training hardware and software you need. Tech Travel Agents remember all the pieces and parts that easily get overlooked.

Focus on your core competency...your computer training session. Don't be distracted by hardware and software problems. Let us focus on our core competency.. your computer training hardware installation and management.

Your total costs and total frustration is way lower with Tech Travel Agents from Rentacomputer.com. Yes indeed, Computer Rentals are the best computer classroom training solutions!