Video Wall Rental Samples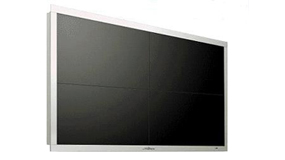 The most common dimensions of a Video Wall is the 2 x 2 but rentals for a 3 x 3 Video Wall can easily be accommodated. Video Walls are multiple, seamless, flat screen displays that have been pushed next to each other to create a larger display: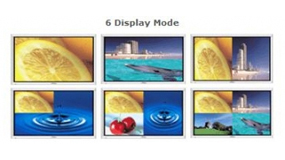 With a Video Wall you can have several different display modes which depend on what the dimensions of your Video Wall are. For Example, there are 6 different display modes for a 2 x 2 Video Wall: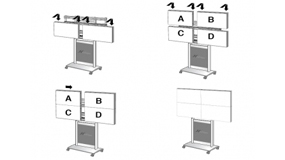 This is a sample of how a 2 x 2 Video Wall works and how they are set up: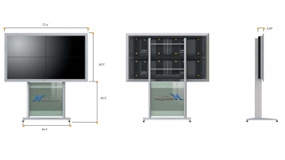 Here is a schematic of a 2 x 2 Video Wall on a floor stand. As you can see they are very thin and take up little space:
Our hats go off to the biggest Video Wall display in the world. The new Comcast Center has installed a giant video wall in their lobby. 10 million pixels mounted seamlessly in a flat array. With 5 times the resolution of high-definition TVs, its an amazing sight.