Panasonic Plasma TV Rentals
Client Comments:
"Jessica provided the best service ever for our trade show in Orlando. All the plasma screens and AV equipment arrived on time, the installers went right to work and got everything setup and tested hours before the start of the show. Best yet, after the show was over, the guys show up, disassembled and packed away all the equipment within a half hour after the close of the show. Earliest I ever left a tradeshow after it was over. Congratulations Jessica, you are the best Tech Travel Agent in the World!!!" - Thomas K. from Orlando, Florida
"Rentacomputer.com helped me organize plasma rentals in 10 cities across the U.S. all on the same day! It was wonderful only having one company to call instead of 10 separate companies! Rentacomputer.com saved me time and money." - John from Columbus
"Everything has worked out just like you said it would, our event has been great! Thanks for all your help in making sure we got the plasma TV and everything else we needed" - Elaine from Massachusetts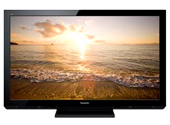 Why Rent A Panasonic HDTV
Panasonic uses its own unique image-analysis technology, which converts the motion of each video scene into dots, making each frame displayed at a shorter length and reducing aftereffects. The user can also view photos and videos easily, as well as other forms of web entertainment.
Panasonic 3D Plasma Rental
The big difference between LCD and Plasma screens is LCD screens can suffer from motion blue, but in most models at 120HZ or 240HZ this is not a problem. Plasma TV's can display blacks more accurately, but suffer from "burned in" images. Generally, Plasma Screens are better for televisions larger than 50 inches, but if you're looking for a smaller television, LCD is the way to go.
1080P vs 720P
Today the 1080P vs. 720P debate is becoming less of an issue due to 720P being phased out. Almost two-thirds of all HDTV's now come in 1080p. 720P has lower quality than 1080P due to less pixels on the screen, but the difference is very negligible and at sizes lower than 40 inches is almost impossible to see.

Need a Panasonic plasma display long-term?
If you need any number of Panasonic plasma displays for more than one year, consider our leasing options. We can lease any Panasonic plasma display of any size for flexible one to five year terms. Contact a Tech Travel Agent to get started on a leasing contract today.