Toshiba Plasma TV Rentals
Why Get A Toshiba HDTV Rental
Toshiba HDTV's offer everything from 3D models, LED or LCD, and TV DVD combos. So whatever your temporary viewing needs are, our agents can get you the right kind of Toshiba plasma display rental.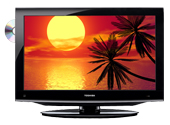 Toshiba DVD/TV Combo Rentals
If you are setting up a trade show booth, and have video that you want to constantly display, then a Toshiba DVD/TV combo rental is a great choice. These are exactly what they sound like, having DVD players built right into the TV itself, so you can just plug-and-play your DVD video for your audience.
Plasma Display Accessory Rentals
We can also offer you a Toshiba Plasma Rental that includes the Toshiba accessories you might need, which might include remote controls, stands & wall mounts, cables & adapters, and even 3D glasses. Just contact your Tech Travel Agent to get a complete Toshiba Plasma Display rental.

Need a Toshiba plasma display long-term?
If you need any number of Toshiba plasma displays for more than one year, consider our leasing options. We can lease any Toshiba plasma display of any size for flexible one to five year terms. Contact a Tech Travel Agent to get started on a leasing contract today.