Powerpoint Projector Rentals
Client Comments:
"Thanks Randy! We'll definitely be in touch the next time we need to rent any equipment! We had a wonderful experience working with you. The projector rentals were great for the art showing!" - Projects NYC from New York City
"I wanted to thank you very much for everything. Your AV specialist just left. He hooked up our LCD Projector and our presentation went great! Excellent service!"" - Maria from New Jersey
"I sent the 6500 lumen projector and short lens back yesterday. They worked very well! Thank you sooooo much!" - Joan from Nebraska
Why Rent a Powerpoint Projector?
A Powerpoint projector is essentially a projector that is optimized for connecting to a computer and showing a Powerpoint presentation. These types of projectors are great for making business reports and presentations, or giving a lecture on any topic. So let your Tech Travel Agent help you impress your audience with a Powerpoint projector rental.
Wireless Powerpoint Projectors
If you are holding a meeting that has multiple presenters, a wireless Powerpoint projector rental can allow each presenter to connect wirelessly to the projector from his or her own device, rather than having to plug and unplug every time a new presenter is preparing. Wireless projectors can also project straight from the web or even tablet PC devices.
Powerpoint Projector, Laptop, & Screen Rental
Our agents can offer a complete solution that includes a projector rental, laptop rental, and screen rental, which is delivered and installed at your meeting place so that all you have to do is show up and conduct a great meeting. Contact your Tech Travel Agent about your Powerpoint Projector Package.
DVD Video Projectors
DVD Video Projectors are exactly what they sound like. A combination unit that combines a DVD media player with a video projector, cutting out the need for multiple pieces of electronics and wiring.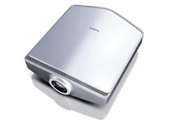 High Definition Projectors
The first and most important aspect of a projector that everyone will notice the instant you power it up is the Sharpness and Clarity of High Definition Images.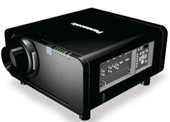 Large Venue Projectors
If you have a large event, then you need a more powerful projector that can project vibrant and clear images at large distances; the rule of thumb being 'the larger the venue, the brighter the projector.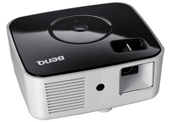 Projector Rentals for Meetings
We can offer projector rentals perfectly suited for those small and intimate meetings. Ultraportable projectors offer great projection quality for small spaces, while being highly portable, and ready to go at a moment's notice.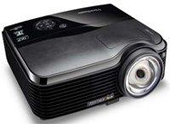 Short-Throw Projector
Short-throw projectors only require half the projection distance of traditional projectors. The projector can be placed just a foot or so from the screen.
Projector & Screen Combo Rental
Many times a projector needs a screen with which to project upon, and our agents can get you any size screen for any size audience. By letting your Tech Travel Agent develop a single solution that includes the right projector and the right screen, as well as handle delivery to any location, you can avoid the headache of getting multiple technologies together for your presentation.
Need a Powerpoint projector long-term?
If you need any number of Powerpoint projectors for more than one year, consider our leasing options. We can lease a Powerpoint projector along with a laptop for flexible one to five year terms. Contact a Tech Travel Agent to get started on a leasing contract today.