Short-Throw & Rear Projection Screen Combo Rentals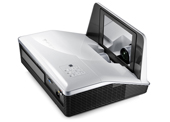 Why Rent a Short-Throw Projector & Rear Screen Combo?
Short-Throw projectors are machines that can project large and bright images at a very short distance from a projection surface. Rear projection screens are exactly what the name implies, screens that can be projected onto from the backside, allowing the projector to be hidden. Our Tech Travel Agents are capable of bundling these into a single rental solution, which are ideal for spatially limited situations, since a lot of space can be saved by having a short-throw projector just a foot or two behind a rear projection screen.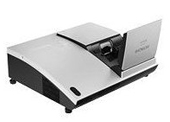 Short Throw Projector & Rear Screen Combo Rentals for Meetings
Sometimes you need to make an important business presentation in a small meeting or conference room. In these situations, the last thing you want is having a projector and screen that takes up a lot of space. With a Short-Throw Projector & Rear Screen Combo Rental, you can have a clear and vibrant projection image and surface without using up precious space in the meeting room.
Projector & Screen Rental Accessories
Our Tech Travel Agents can also procure various projector rental accessories that are very handy for making presentations. Laser pointers, as well as wireless mouse and controllers are just some of the peripherals we can include in your Projector & Rear Projection Screen Rental.
We can also include laptop or tablet PC rentals in your rental solution, which would solve any presentation need you could have.
Need a Short-Throw Projector & Rear Projection Screen long-term?
If you need any number of short-throw projectors or rear projection screens for more than one year, consider our leasing options. We can lease a short-throw projector and rear projection screen along with a laptop for flexible one to five year terms. Contact a Tech Travel Agent to get started on a leasing contract today.