Alienware Gaming Computers
A true tower of power, Dell's Alienware gaming computer rentals feature bold designs and even bolder performance. Give your gamers the power they demand and make your next gaming tournament or event stand out with the sleek, easily recognizable design and unsurpassed gameplay that only Alienware can deliver.
Request an Alienware Rental Today
Alienware Gaming Desktop Rentals
Dell Alienware Aurora R11 Gaming Computer
Need a powerful, reliable desktop, with the most powerful graphics card on the market? Look no further. With the brand new Alienware Aurora R11, you can use this powerful computer to accomplish almost any task at hand.

For the oustanding performance for both gaming and buisness use, the Alienware Aurora is stacked with a powerful Ten-Core Intel Core i9 10900KF(3.7GHz), 32GB DDR4-3200 RAM, 1TB SSD Harddrive, 24 GB GDDR6X Video Memory with a NVIDIA GeForce RTX 3090, the most powerful graphics card, giving buisness professionals the power that they need to finish the tasks given like hard graphic design, video editing, 3D modeling, etc. The Aurora is all powered with a 1000 Watt power supply to make sure everything will meet all expectations for the users, and is packed with ray-tracing to give a satisfying feeling when used in large convention or gaming event.

The NVIDIA GeForce RTX 3090 is standard with an outstanding 10496 NVIDIA CUDA Cores, able to be clocked up to 1.70GHz, and second generation ray tracing cores pushing the best quality of gameplay for the gamers. The graphics card also comes with a 7th generation NVIDIA Encoder and 5th Generation NVIDIA Decoder to dedicated more tasks to the GPU from the CPU, allowing the system to run more efficiently. Looking for an Alienware rental with the options you need to make your next event a success? Let's chat and find out how we can make that happen.
Request an Aurora R11 Rental
Out Of this World Power And Design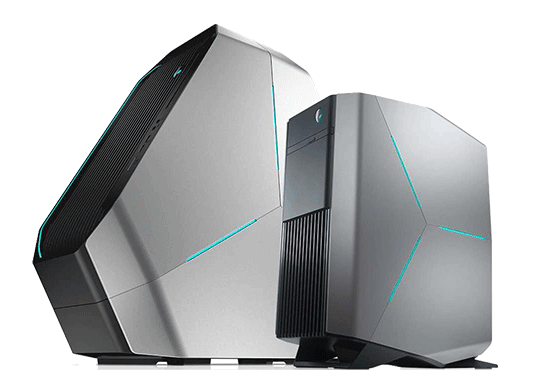 For unsurpassed power and performance, look no further than the bold, modern designs delivered by Alienware. With processors up to Intel Core i9 9900K and AMD Ryzen Threadripper 2950X, up to 64GB DDR4 RAM, and M.2 NVMe SSD up to 2TB, Alienware gaming desktops are able to deliver unmatched gameplay for even the most discerning gamers.

Designed to accommodate up to two graphics cards, the Aurora R8 boasts massive performance capabilities in the sleek design that makes it easily recognizable as Alienware gear. Looking for a gaming desktop that can support RTX? The Aurora R8 can even support dual-Nvidia GeForce RTX 2080 Ti cards.

Area-51 desktop rentals promise up to 16K high-fidelity gaming thanks in large part to triple AMD Radeon RX graphic card configuration options, like the 580X. Boasting the latest NVIDIA technology like ray tracing, AI-enhanced graphics rendering, and DLSS, the Area-51 will set your event apart from any other.
Reserve An Alienware Rental Now
Alienware Gaming Laptops
TAKE GAMING WHEREVER YOU GO
Hosting a gaming or esports event in a smaller venue? Worried that you won't have enough space for a large number of desktops, monitors, keyboards, and mice? Do you need to change over from computer gaming to console gaming and back again throughout your event? If gaming desktops aren't practical for your event, Alienware's Area-51m, m15, and m17 laptop rentals pack the power of a desktop into a portable size.

Available with 15" or 17" screens, these powerful and upgradeable workhorses feature GeForce RTX graphics cards up to the 2080, processors up to i9-9980HK, up to 64GB DDR4 RAM, M.2 NVME SSD up to 2TB, and RAID0 options. Thanks to its 144Hz screens, the Area-51m series delivers smoother gameplay experience than other gaming laptops.
Book an Alienware Laptop Rental Today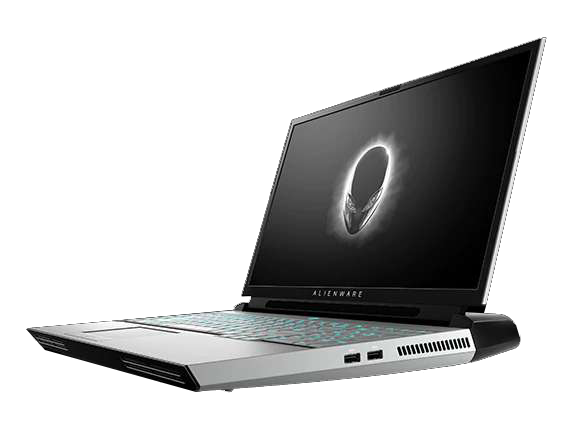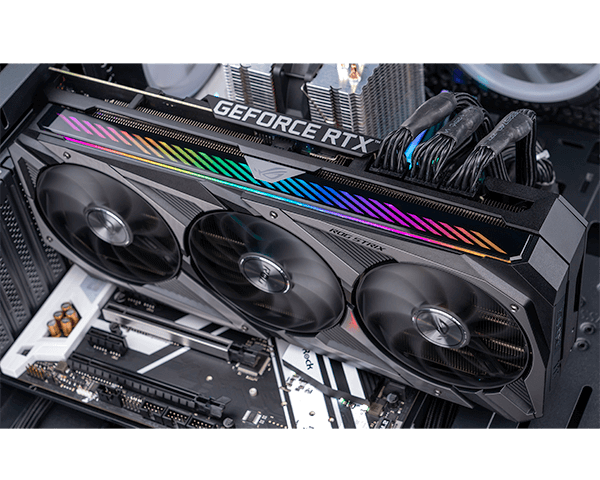 GeForce RTX™ 30 Series
The latest and greatest generation of video cards from Nvidia, the 30 series of video cards is able to deliver the ultimate in performance; for both gamers and creators. Featuring the power from Nvidia's 2nd gerneration of RTX architecture, Ampere, the 30 series of cards feature new RT cores, Tensor Cores, and streaming multiprocessors. These combine to bring the most realistic ray-traced graphics and cutting edge artificial intelligence features to the market. This AI acceleration, when used with the most popular in creative apps, is able to bring your creative projects to the next level. Whether you're editing 8K video, rendering a 3D animation, or livestreaming, you won't need to worry about your hardware slowing you down.

Aside from editing 8K video, the GeForce RTX™ 3090 video card (also available on our HP Omen 30L gaming desktop) makes it possible to play games in incredible 8K resolution with an HDMI 2.1 cable. The GeForce RTX™ 3090 video card delivers the highest level of performance and the smoothest gaming experience currently possible, and pairs perfectly with a virtual reality headset rental. When you choose Rentacomputer you'll always have access to the newest RTX rentals for your event!
Beyond Gaming
Engineering, Medical, And Video Production Applications
The processing speed and superior performance that first drew the eye of the gaming industry have also led professionals to take notice of Alienware. With superior graphics, unmatched processing speeds, and massive storage, Alienware gaming desktop rentals and laptop rentals are an ideal choice for engineering, medical, and video production applications.

Quickly and easily edit video from your desk or on the go with the power of i9 processors. Process massive amounts of data sets and render photo-realistic graphics in real-time thanks to dual-Nvidia GeForce RTX 2080 Ti cards or triple AMD Radeon RX graphic card configuration options. With Alienware, the only limit on what you can do is your own imagination.
Request an Alienwar RTX Rental
What's New? Ray tracing capable graphics cards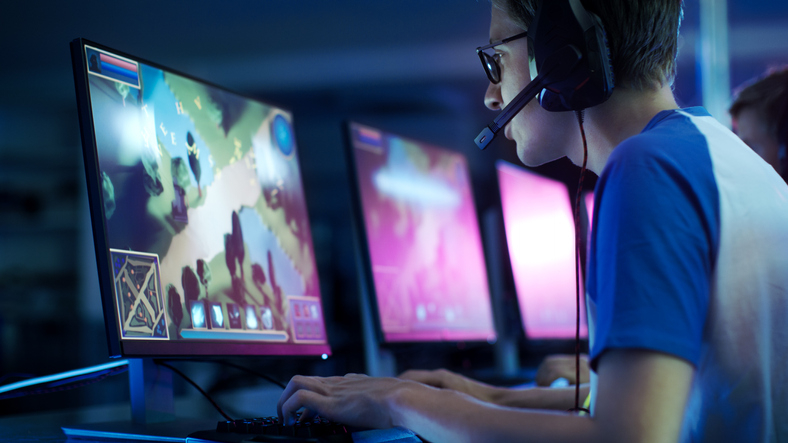 Delivering more realistic graphics has never been easier. Whether you want to deliver a more immersive gaming experience for your tournament players or let your architecture conference attendees create photorealistic renderings, we offer laptops and desktops equipped with the new RTX-equipped GeForce RTX 20 series to help you create a truly unique experience for your users.
Get an Alienware RTX Desktop Rental Today
What is RTX/Ray Tracing?
What Does RTX Stand For?
Created by Nvidia, RTX (ray tracing platform), also known as Nvidia RTX, is an interface for real-time ray tracing for rendering graphics. Ray tracing allows game developers, engineers, and medical professions to emulate the way that light works in the real world, tracing the path of simulated light as it bounces off objects, interacts with the properties of other objects, and how its hue can change over time or as it moves across surfaces - creating a more realistic image. Recreating the way that light works in the real world is resource-intensive, requiring massive amounts of computing power - and the GeForce RTX 20 series is ready to deliver.
Reserve an Alienware RTX Rental Now
Also offering a full line of audio visual and display products We're a one-stop shop for your next esports gaming event
Audio Visual & Display Rentals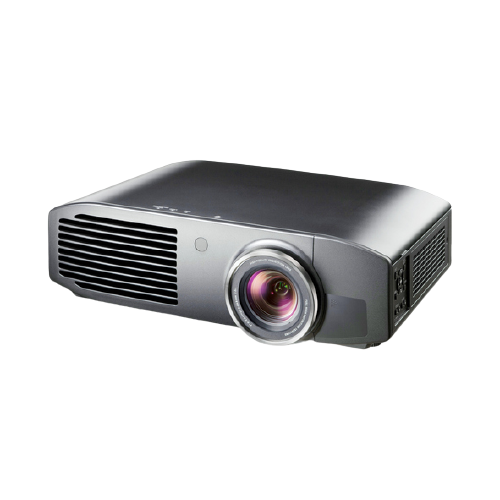 Projectors
Short throw, long throw, rear projection, high lumen, and more. We have projectors to fit every need and venue.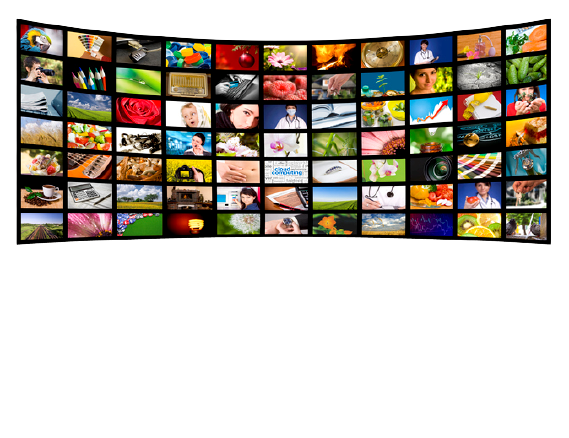 Video Walls
Video wall rentals are a great engagement tool at conventions and trade shows. Have a social media wall, or promote your brand at your next event.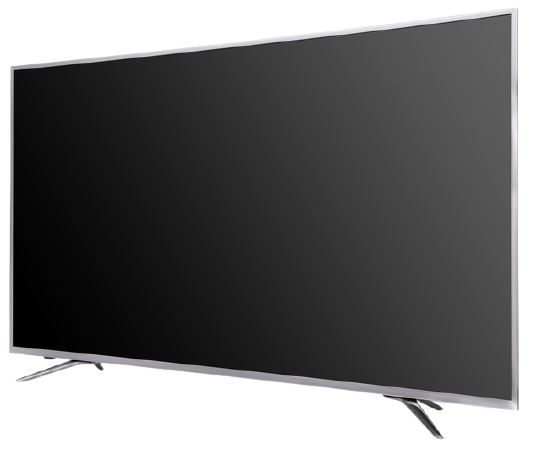 Televisions
We carry a wide range of television rentals from standard HD to 4K displays. We even offer touchscreen television rentals and multitouch collaboration display tables. Be sure to ask about bulk discounts if you're checking for the best value on your TV rental needs.
View All AV & Display Rental Products
Alienware not what you're looking for? We offer a wide selection of other rental products.
Other Windows-Based Rental Products
---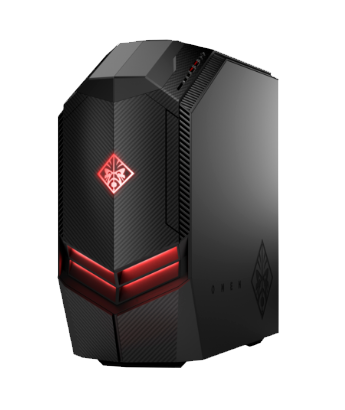 Gaming Desktop Rentals
Top of the line Windows desktop rentals for gaming purposes. Our gaming desktop rentals come equipped with some of the best hardware on the market in terms of processing, RAM, storage, and graphics cards like the RTX 2070.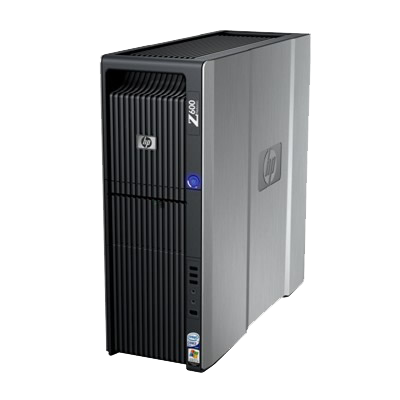 Workstation Rentals
Powerful Windows based work-oriented desktops from HP, Dell, or Lenovo with options for multiple processors, increased RAM, and high end graphics.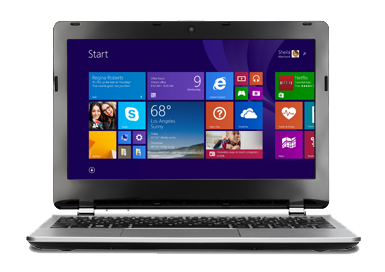 Laptop Rentals
We carry a variety of Windows laptops, mobile workstations, Macbook Pros, Macbook Airs, Microsoft Surface Books, and Chromebooks, with or without GPUs like the GTX 2060. No matter what quantity or configuration you need, we can help. At Rentacomptuer.com we're not just here to save you time and money, we're here to make your event easy!
Request An RTX-Equipped Computer Rental Today