Gaming Desktop Rentals
Gaming conventions, esports tournaments, virtual reality projects, and video editing projects all require the power that only a high-performance gaming desktop PC can provide. As one of the best places to rent a gaming PC, our gaming desktop computer rentals boast the latest industry hardware and deliver the top-tier performance that competition demands. When you choose Rentacomputer.com you'll always have access to the newest gaming desktop rentals for your event
Rent A Desktop Gaming Computer
Rent A Gaming Desktop Computer
Alienware Aurora R11
Why Rent a Gaming Desktop?
There are many reasons renting a gaming computer may be right for your next project or event, including:
Better graphics and higher processing speeds than regular computers.
Flexible lease terms for daily, weekly, or monthly rentals.
Ideal for numerous gaming events and processor-intensive business tasks like running simulations, developing software, or editing media.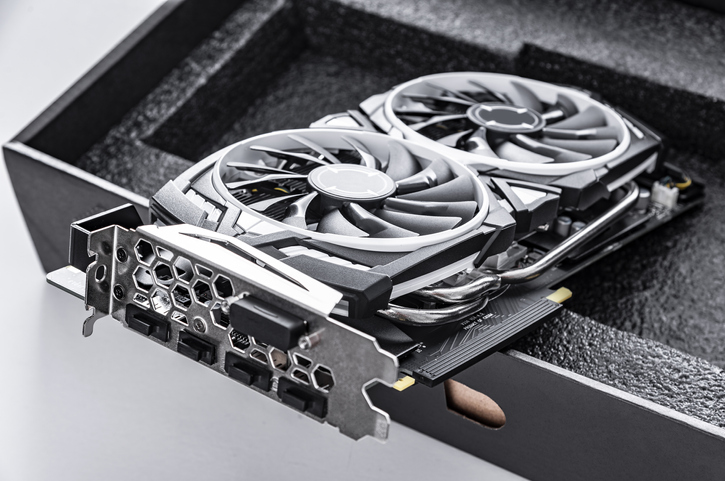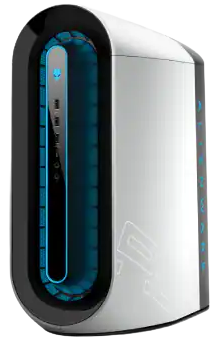 Alienware Aurora R11
For incredible performance, the Alienware Aurora R11 gaming computer is a surefire way to get a leg up on the competition. With its powerful Intel Core i9 10900KF (3.7GHz) processor, 32GB of DDR4-3200 RAM, a 1TB solid-state drive (SSD), and the most powerful graphics card on the market, the NVIDIA GeForce RTX 3090, business professionals will have the power they need to finish even the most demanding of tasks.
Whether you need to do intense graphic design, edit 8K video footage, or complete some 3D modeling, the Aurora R11 and its RTX 3090 is a prime choice to get the job done. With Nvidia's 2nd generation of RTX architecture, the RTX 3090 features new RT cores, Tensor cores, and streaming multiprocessors. When combined, it brings the most realistic ray-traced graphics and cutting-edge artificial intelligence features that are able to be experienced.
Aside from the power you'll get to complete your demanding business projects, the RTX 3090 also makes it possible to play your favorite games in incredible 8K resolution, with the help of an HDMI 2.1 cable. Planning on organizing a gaming tournament? The Aurora R11 is sure to impress your attendees with the power and awe-inspiring graphics it is able to deliver.
Request an Alienware Aurora R11 Quote
More Alienware R11 Specs:
Front Ports:
1. (2x) Type-A USB 3.2 Gen 1 Ports | 2. Type-A USB 3.2 Gen 1 Ports with Powershare technology | 3. (1x) Type-C USB 3.2 Gen 1 Port with Powershare technology | 4. (1x) Headphone/Line Out | 5. (1x) Microphone/Line In

Rear Ports:
6. (1x) SPDIF Digital Output (Coaxial) | 7. (1x) SPDIF Digital Output (TOSLINK) | 8. (1x) RJ-45 Killer E3000 2.5 Gigabit Ethernet | 9. (6x) Type-A USB 2.0 Ports | 10. (1x) Type-C USB 3.2 Gen 2 with Powershare technology | 11. (1x) Type-A USB 3.2 Gen 2 | 12. Side Surround Output | 13. Microphone In | 14. Line Out | 15. (3x) Type-A USB 3.2 Gen 1 | 16. Rear Surround Output Center/Subwoofer Output | 17. Center/Subwoofer Output | 18. Line in

*IO ports subject to graphics card selected.
HP Omen 30L
Our latest offering of desktop computers from HP, the Omen 30L is one of the most powerful pre-built gaming desktops available on the market. This computer comes equipped with a liquid-cooled Intel i9-10850K processor, a Z490 motherboard, 750W platinum PSU, 64GB of HyperX RGB Ram, a 4TB NVMe SSD, 2TB HDD of storage, and the NVIDIA GeForce RTX 3090 GPU.
The liquid cooling system is designed to perform quietly and draws heat away from one of the highest-rated unlocked performance processors from Intel. The 750W platinum power supply provides maximum efficiency, and the 64GB of RGB RAM allows you to customize the flair and appearance of the machine, while still delivering the ultimate in performance.
Equipped with the NVIDIA GeForce RTX 3090, the HP Omen 30L comes with 24GB of VRAM, or video RAM. VRAM is used to ensure the even and smooth execution of graphics display, which is important in applications that display complex image textures or render polygon-based 3D structures. The 24GB of VRAM offered in the HP Omen 30L is perfect for design, architecture, CAD, and 3D modeling projects, or other daily occupations!
Let Rentacomputer.com be your number-one provider for all your HP Omen rentals for your next event or project.
Request an HP Omen 30L Quote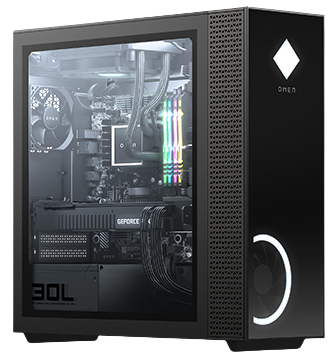 More HP Omen 30L Specs:
Wireless Technology:
Realtek Wi-Fi 5 (2x2) and Bluetooth® 5 Combo, MU-MIMO supported8, 9

Top Ports:
1. 2 SuperSpeed USB Type-A 5Gbps signaling rate, Headphone/Microphone Combo, Microphone Jack | 2. HDMI Port | 3. DVI-D Port

Rear Ports:
1. 4 SuperSpeed USB Type-A 5Gbps signaling rate | 2. 1 SuperSpeed USB Type-A 10Gbps signaling rate | 3. 1 SuperSpeed USB Type-C® 10Gbps signaling rate10 | 4. DisplayPort™11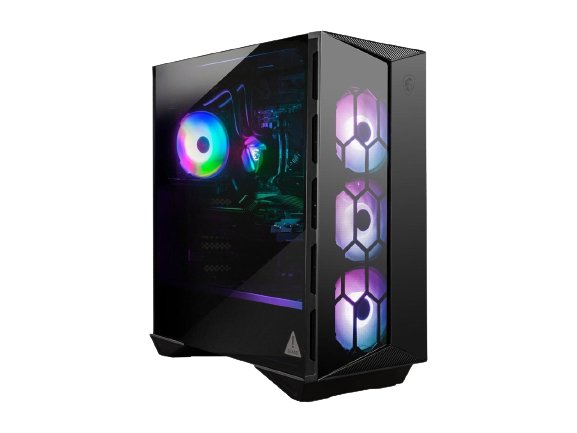 MSI Aegis RS 11TH-222US
Wield the power and become the world's best with the MSI Aegis RS. Packed with an 11th-generation Intel Core i7 processor and an NVIDIA GeForce RTX 3080Ti graphics card, it's the most powerful gaming desktop. Designed for eSpots, it delivers an exceptional gaming experience.
The GeForce RTX 30 series delivers the ultra performance that gamers crave, powered by Ampere — NVIDIA's 2nd- gen RTX architecture. The GeForce RTX 30 series is built with enhanced RT Cores and Tensor Cores, new streaming multiprocessors, and superfast G6X memory for an amazing gaming experience. RTX graphics bring together real-time ray tracing, artificial intelligence, and programmable shading.
With MSI's exclusive 120mm Dragon CPU liquid cooler, Aegis RS allows for the maximum amount of heat dissipation and handles the most hardware-intensive games without breaking a sweat. Enjoying AAA games is definitely a breeze for Aegis RS users.
Request an MSI Aegis RS Quote
More MSI Aegis RS Specs:
Front Ports:
1. (2x) Type-A USB 3.2 Gen 1 Ports | 2. (1x) Type-C USB 3.2 Gen 2 Port | 3. (1x) Headphone/Line Out | 4. (1x) Microphone/Line In

Rear Ports:
5. (1x) Type-C USB 3.2 Gen 2x2 Port | 6. (1x) Type-A USB 3.2 Gen 2 Port | 7. (2x) Type-A USB 3.2 Gen 1 Ports | 8. (4x) Type-A USB 2.0 Ports | 9. (1x) RJ45 Ethernet Port | 10. (1x) HDMI-out (2.1) | 11. (3x) DP-out (1.4a)
What's New? Ray Tracing Capable Graphics Cards
GeForce RTX-Equipped PC Desktop Rentals
Rentacomputer.com offers customized PC rentals to fit your specific event needs, whether you want to deliver a more immersive gaming experience for your tournament players or let your architecture conference attendees create photorealistic renderings, we offer laptops and desktops equipped with the Nvidia RTX 20 series (RTX 2060, RTX 2070, RTX 2080), as well as the new RTX 30 series (RTX 3060, RTX 3070, RTX 3080, and RTX 3090), to help you create a truly unique experience for your users.


What is RTX/Ray Tracing
What does RTX stand for?
Created by Nvidia, RTX (ray tracing platform), also known as Nvidia RTX, is an interface for real-time ray tracing for rendering graphics. Ray tracing allows game developers, engineers, and medical professionals to emulate the way that light works in the real world, tracing the path of simulated light as it bounces off objects, interacts with the properties of other objects, and how its hue can change over time or as it moves across surfaces - creating a more realistic image. Recreating the way that light works in the real world is resource-intensive, requiring massive amounts of computing power - and the GeForce RTX 20 series is ready to deliver.
Tips To Look For When Renting a Gaming Desktop:
Bigger isn't always better. You don't need a huge desktop tower to get a system with high-end components.

SSD is better than HDD. Solid State Drives (SSD) have no moving parts and will make your computer faster than traditional HDD. Look for at least a 256GB SSD boot drive paired with a larger secondary SSD or hard drive for storage.

Get the right amount of RAM. 8GB is okay, but 16GB is ideal for most users. Although, if you are dealing with large files or doing high-end media content creation, you may want up to 64GB of RAM.

Get a PC with enough ports. You'll want plenty of USB ports for plugging in peripherals and external storage, as well as enough HDMI ports to connect your monitor(s). Look for a system with USB 3.1 Gen 2 and USB-C ports if you're looking to use this desktop for a while as these ports will stand the test of time.
Processor Models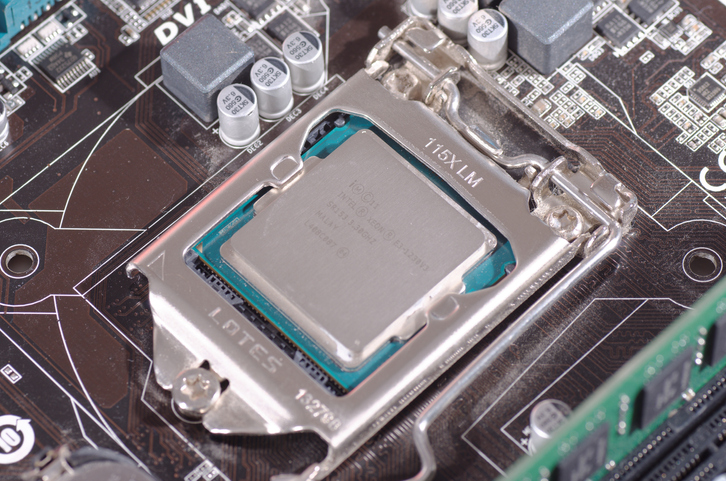 The Heart of the Matter
Responsible for handling all of the input and output functions of gameplay, selecting the right gaming desktop rental with the right processor can significantly improve your gameplay experience. Our high-performance gaming desktop rentals are available with a wide range of processors including Intel i3, i5, i7, i9, and AMD Ryzen.
Graphics Cards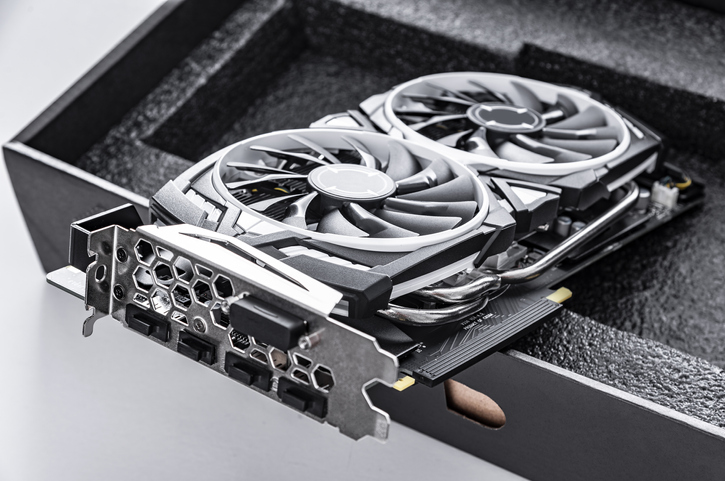 Rendering all Things Possible
Managing and enhancing video and graphics performance, the graphics card is the powerhouse of any high-performance gaming desktop rental. Our high-performance gaming desktop rentals are customizable with a wide range of GPU options including Nvidia's GeForce GTX 1080, 1660, the Nvidia Geforce RTX 20 series (RTX 2060, RTX 2070, RTX 2080), and the AMD Threadripper.
Hard Drives
Storage and Speed
Your hard drive has to have enough storage for and the speed to support the graphics of your games. Whether you opt for a hard drive or a Solid State Drive, we offer our high-performance gaming desktop rentals with a wide range of drive options, including HDD, SSD, and NVMe M.2 SSD.
RAM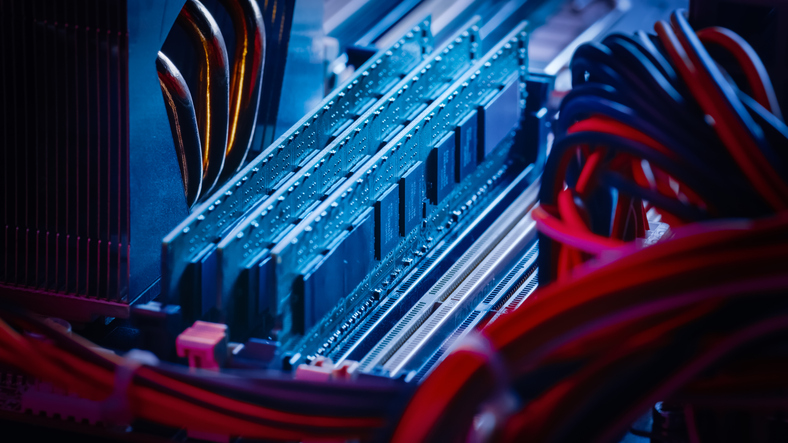 As Much Memory as You Need
We can provide as much RAM as your application requires. DDR4 RAM allows our high-performance gaming desktop rentals to deliver higher speed and efficiency thanks to increased transfer rates and decreased voltage. With RAM up to 64GB, there's no game too big for our gaming desktop rentals to handle.
Why Rentacomputer.com Is the Ideal Place to Rent a Gaming Desktop
We're a leading rental technology partner for established businesses for many reasons.
High-Quality Selection
We have a large inventory of the market's most popular gaming PCs. These models come from industry titans whose names are synonymous with superior quality.
Rentacomputer.com also has a rigorous in-house quality assurance program. Each gaming PC undergoes thorough testing from our highly skilled team to verify its powerful performance and accurate operation.
In-Depth Expertise
We've been a leader in providing short-term business technology since 1987. Our team knows the products we carry and can offer objective advice on choosing the best high-end computer rental for your gaming or business needs.
Worldwide Availability
Our rentals regularly cross borders between U.S. states and the U.K., Australia, the EU, and Canada. The links at the bottom of the page will help you locate a nearby Rentacomputer.com location, or you can connect with our team online for assistance reserving your rental.
Exceptional Service
Our reps provide personalized service for each rental. You'll team up with one person to help you from start to finish. They'll provide advice, answer any questions, and coordinate your lease.
The Rentacomputer.com team provides on-site delivery and setup in numerous places. When that's not possible, many orders ship at no additional charge. During the return, we'll either tear down and pick up or provide everything you need to send the equipment back.
Quick Quote
Are you in a rush and tired of waiting for other rental companies to get back to you? Do you need something specific that you don't see listed on our website? Look no further than Rentacomputer.com! With our extensive inventory, unbeatable prices, and 15-minute response guarantee, we're committed to providing you with exceptional customer service. You can count on us to be your reliable rental partner. Contact us today for a personalized quote tailored to your needs!
Software Imaging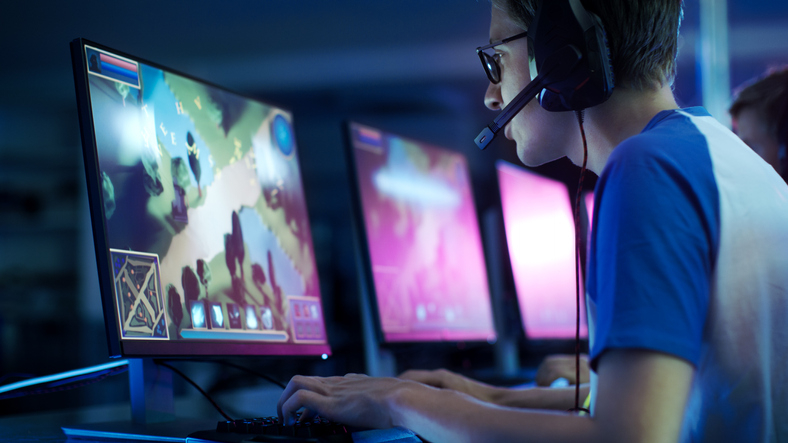 Get To Gameplay Faster
Instead of your team spending hours installing identical gameplay software on every machine for your players, let our team handle it. We can use software imaging to preload all of your high-performance gaming desktop rentals before we send them out the door to you.

Using the performance of a gaming desktop for production or work projects? We can even install common software like Office on your rentals or image any proprietary software you may intend to use on all of your rentals.

Get A Quote For Desktops With Software Imaging
Equipment Setup and On-Site Techs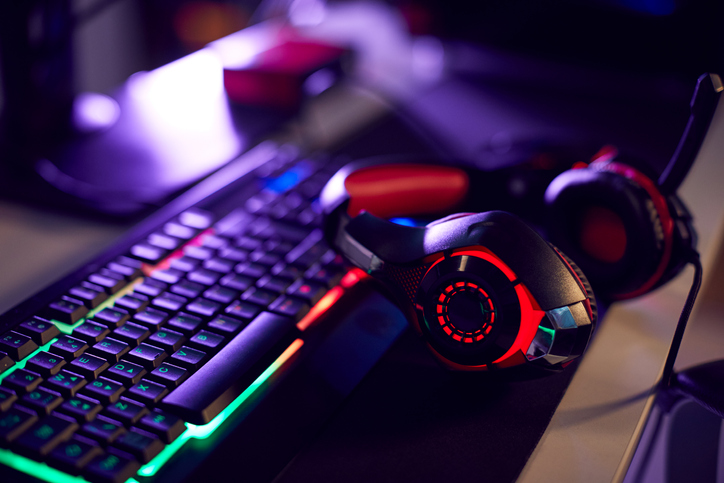 An Extra Hand When You Need It Most
No matter how many dedicated staff members or volunteers you have, every event can use an extra hand - especially when it comes to installing a large number of high-performance gaming desktop rentals that all need to be set up the exact same way. Our team of experienced professionals is ready and willing to help with any equipment set-up needs you may have leading up to your event. We can even provide on-site techs to help with any issues you may have during your event.
Request A Desktop Quote With On-Site Techs
Common Gaming Desktops & Brands We Rent
---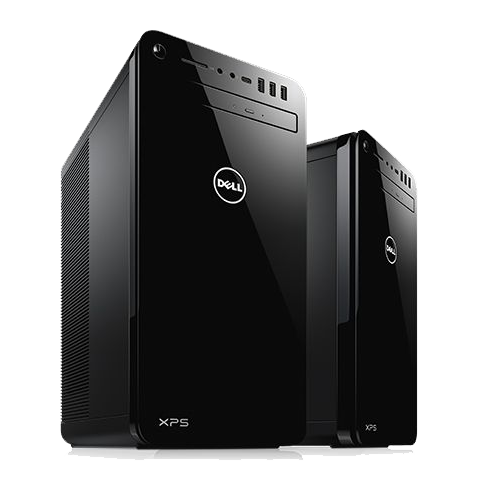 Dell XPS
Dell XPS has been one of the longest-running gaming desktop lines. With a fast processor, improved graphics, and increased RAM, Dell XPS rentals are great for high-performance needs.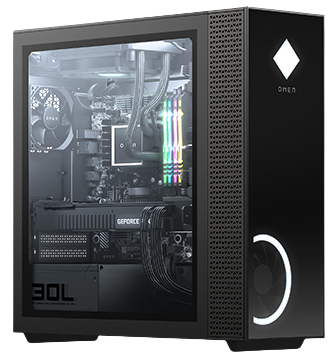 Hp Omen
HP Omen is a go-to in the arena of PC gaming. These high-performance computers focus on improved speeds, processing, and memory. Get an HP Omen gaming desktop rental for your next big gaming event.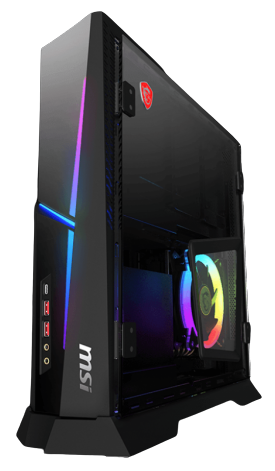 MSI Trident And Aegis
The MSI PCs are a popular choice for gaming desktop rentals because they can handle just about any game or program you throw at them. Great graphics and high performance are a hallmark for of MSI gaming computers.
Gaming Related Rental Equipment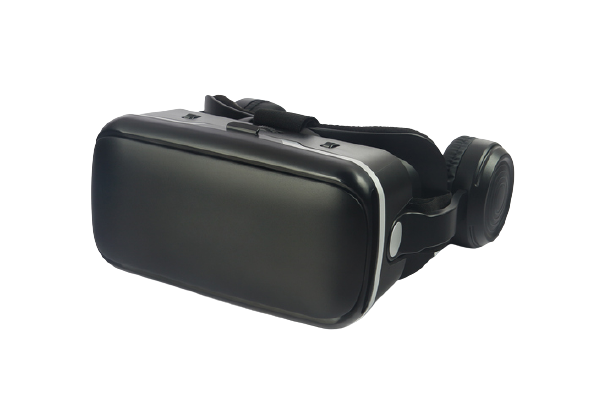 Virtual Reality Rentals
With many developers creating and demonstrating new VR games, videos and technology, the need to rent VR headsets from Samsung, HTC, Oculus, and Gear VR is becoming increasingly popular!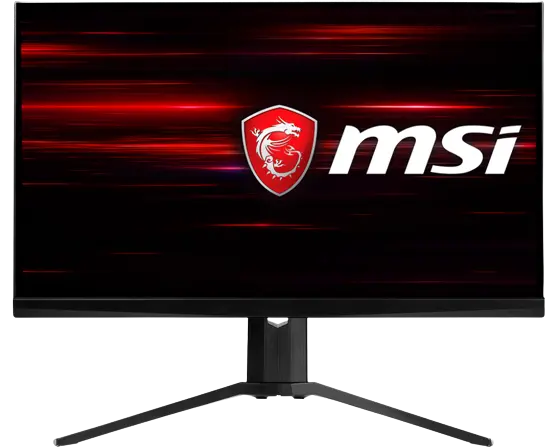 Gaming Monitor Rentals
You can't have great gaming without great gaming monitors. We offer a wide variety of high resolution, fast response rate, 120Hz and 144Hz monitors. We even have 4K PC Monitors to bring your next gaming event to the next level.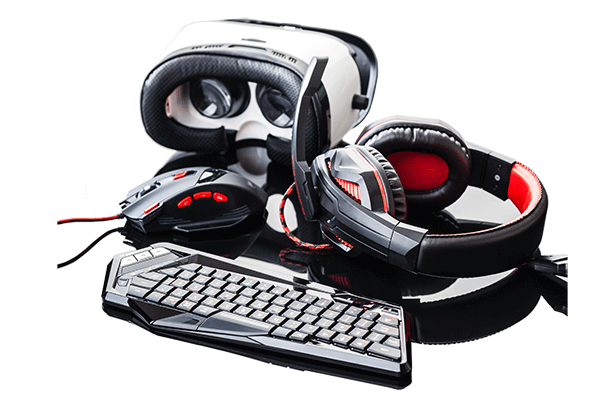 Gaming Peripheral Rentals
With many developers creating and demonstrating new VR games, videos and technology, the need to rent VR headsets from Samsung, HTC, Oculus and Gear VR, are becoming increasingly popular!
View all Server & Computer Rental Products
FAQs
Following are some common questions we get from our customers and our answers.
When Should I Consider a Gaming Computer Rental for Work Tasks?
There are many processor-intensive needs in modern business where a gaming computer rental delivers value, including:
Photo and video editing.
Simulations and engineering drawings.
Presentations with rich media and large file sizes.
Software development and testing.
Your dedicated Rentacomputer.com partner can help you determine whether a gaming PC makes the most sense for your tasks.
Will My Rental Be Ready Right Out of the Box?
Yes! Your desktop gaming PC will be ready to use upon arrival and setup. We can even help you with pre-loaded software to ensure you have the tools you need to succeed when you turn the device on.
Do You Provide Technical Support?
Our team is available for remote support 24/7. On-site support is optional for events, and you can get more information from your dedicated rep if interested.
How Does a High-Performance PC Rental Work?
Our goal is to make your next project or event as seamless as possible so we make the rental process easy. Just complete our online quote form to hear from your dedicated team member. We'll review your wants and needs and prepare a custom quote for your acceptance. Once you're ready to proceed, we'll set up your delivery or shipment and returns.
Nationwide Gaming Desktop Rentals Available
For over 35 years, Rentacomputer.com has been providing top-of-the-line technology for temporary business and event needs. We've provided our gaming desktops from coast to coast, from DreamHack in Anaheim to PAX East in Boston. Whether you're an eSports team looking to leave the competition in the dust, a developer who is looking to show off their latest game at a trade show, or a company that needs some extra power to complete some video editing or 3D modeling, our gaming desktops will provide the solution you're looking for. No matter your needs Rentacomputer.com is the proven #1 choice to provide you with quality gaming desktop rentals to help your event go smoothly.
Find Your State Here
Find The Top Rental Venues Here