HP Tablet PC Rentals
Client Comments:
"Thank you and your local staff for your assistance in making the Association for Accounting Administration's 2012 National Practice Management Conference a success. Our goal was to make our event look flawless in the sight of our attendees. Having your equipment on site allowed for us to reach this goal. Thank you again for your time and efforts in supporting our event" - Tracie H. from Dayton, OH
"I would like to extend my appreciation for your services. Our conference was a success and the computers were delivered on time and they worked perfectly. Also, Jason Patrick was great to work with. He was patient, consistent, and very knowledgeable. Great customer service! We look forward to working with Rentacomputer.com in the future." - Tamisha T from Chicago
"On behalf of my team I just want to say we truly appreciate your patience, your understanding but more importantly all the help you've given us. We look forward to a continued working relationship." - Barbara S. from Fairfield, NJ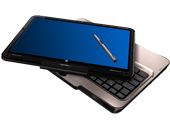 Currently running Windows 7, the TouchSmart tm2t series has and has a 6 cell lithium battery, giving up to 6 hours of battery life. The screen has a 12.1" diagonal, and is bluetooth compatible. HP offers some choices on memory, anywhere from 4GB to 8GB, and on hard drives, 320GB to 750 GB.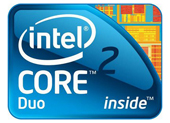 Intel Core 2 Duo T56001
Equipped with an Intel Core 2 Duo .83Ghz for increased performance and application handling. 2 GB of memory standard with up to 4GB Max. 80 GB Hard Drive Has a 12.1 inch XGA Screen which can be rotated 360 degrees for extreme flexibility. Intel GMA 900 128MB Graphics Processor Gigabit NIC / WiFi a/b/g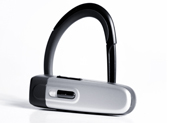 The HP Slate Tablet is a great PC for people who do not have stationary jobs, but still need to stay connected to information and people while on the job. Aside from features that are ubiquitous in most tablet computers, one of the defining virtues of the HP Slate is that it is capable of running custom applications design for a Windows platform. So if your company uses any custom software, then getting an HP Slate 500 Rental is the way to go.

Need an HP Tablet PC long-term?
If you need any number of HP Tablet PCs for more than one year, and want to avoid purchasing, consider our leasing options. We can lease any HP products for flexible one to five year terms. Contact a Tech Travel Agent to get started on a leasing contract today.