Sharp Copier Rentals
Client Comments:
"Thank you Randy. You are the best! Getting those two laptops shipped out overnight for our last minute needs was fantastic!" - JD from Arizona
"Fantastic! Randy, thanks for your help and for being so easy to work with!" - Chris from Virginia
"You have been amazing throughout this entire process! I can't imagine having to work with 10 companies again like I did last year. Using your services for all my locations saved me so much time, I can't thank you enough." - Evan from San Fransisco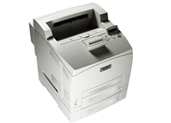 Why Get A Sharp Copier Rental?
Sharp has developed a full arsenal of copiers that can handle any facsimile need that could possibly arise. Whether you need color or black & white, a certain paper size, a printing speed, or finishing options such as hole punching and stapling, our Tech Travel Agents can get you the right Sharp Copier Rental.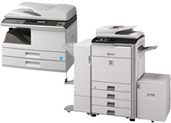 Choosing The Right Production Rate
Sharp has organized their copiers according to ppm's or page per minute, and they range from less than 21 ppm to 71+ ppm. So depending on how much production you need and how fast you need it, this will play a crucial role in determining which Sharp Copier Rental is right for you.
Finishing Options
Sharp also has large multifunction copiers that are capable of performing various finishing functions, which is important if your company needs to produce materials such as year-end reports or manuals. Finishing options include hole punching, mail bin sorting, saddle stitch finisher, and stapling.
One of the most common Sharp black & white copier rentals is the AR-M620 model. This copier more than suits any business need, and delivers a high volume output with high production speeds and 600 dpi resolution. Ubiquitous to most Sharp copiers, the AR-M620 makes use of a very innovative technology that scans a given document on both sides simultaneously, which alone increases the output rate of Sharp's copiers beyond most of its competitors. Contact your Tech Travel Agent for a
Sharp AR-M620 Rental Quote
.
One of our popular color models for rent is the MX-5500. This model is capable of an output rate of 41-ppm when printing color, and has a paper capacity maximum of 6,600 sheets. The MX-500 model also utilizes such innovative technologies as electronic sorting with offset stacking, and advanced image stabilization that provides a higher quality image. Request a Sharp MX-5500 Color Copier rental quote
here
.

Need Sharp copiers for more than one year?
If you need any number of Sharp copiers for more than one year, consider our leasing options. We can lease anything form printers to fax machines for flexible one to five year terms. Contact a Tech Travel Agent to get started on a leasing contract today.