Video Conference RENTALS
Video conference equipment from Rentacomputer.com are some of the newest and most innovative technology gadgets on the market. Not only will you receive great rental rates but also top of the line equipment! Plus, you can rent equipment daily, weekly, or monthly!
Request a Video Conference Rental Today
Rent a Video Conference System
Why should you rent a video conference system?
Meeting Owl Rentals
Owl Intelligence System autofocuses on whoever's speaking, with exceptional video and sound
Video Resolution: 1080p HD
Field of View: 360°
Plug-and-Play via USB 2.0
The Meeting Owl operates software free
Video conference equipment is compatible with any web-based meeting platform, including Zoom, Google Meet, Skype for Business, and Microsoft Teams
Video conference systems are shipped nationwide!
Reserve Your Video Conferencing Rental Now
Overview
With a 360° camera and 8 smart beamforming microphones, the Meeting Owl Pro is able to cover a whole room or conference table at once. The current speaker, up to 18' away, is automatically brought into view with the Wise Operating System's (Wise OS) smart zooming, while the tri-speaker provides clear and crisp voice reproduction. Combined with the 1080p video output and a higher quality camera, the Meeting Owl Pro has a clear edge in visual clarity.
Plug and Play connection to host computer via USB-A cable requires no drivers or software
Compatible with Zoom, Microsoft Teams, Skype for Business, Slack, Webex, and many other web-based video conference software.
Why a Meeting Owl Rental Is Perfect For Your Meetings
The Meeting Owl comes with an AI-powered Wise Operating System (Wise OS) with Owl Sense to intelligently focus on whoever is speaking, Intelligently autofocuses on the active speaker using vision, voice, and motion Options for presenter enhancement, digital whiteboarding capabilities, different camera controls to customize your meeting experience and has the ability to pair two Meeting Owl Pros using Owl Connect to expand video and audio coverage in larger rooms. If you are interested in renting a Meeting Owl for you next meeting, please contact us today!
Request a Video Conferencing Rental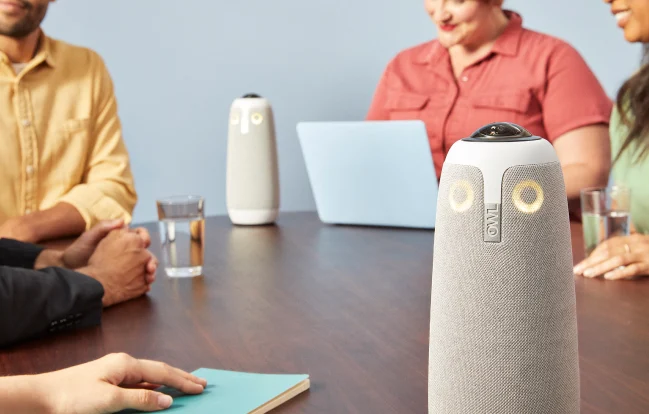 Nationwide Video Conferencing Rentals Available
For over 35 years, Rentacomputer.com has specialized in helping businesses pull off the perfect meeting. From projectors, screens, laptops, monitors, polycom phones, WiFi hotspots, and the Meeting Owl, our account managers can arrange all of the technology you need to ensure that your meeting goes according to plan. We're able to supply our video conferencing equipment to businesses nationwide, and look forward to seeing how we can help support yours.