VERIZON MIFI HOTSPOT RENTALS
Needing a hotspot for a small conference or event? The Verizon Mifi Hotspot stays powered for up to 24 hours of continuous use and can double as a charger for a smartphone. Hotspot are available for daily, weekly, and monthly rentals! With Rentacomputer we'll make your next hotspot rental easy with onsite delivery, setup, and support for your next event!
Request A Verizon MiFi Hotspot Rental
Rent a Verizon MiFi Hotspot for Internet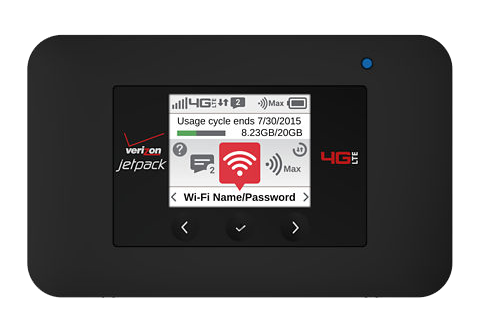 Verizon Jetpack Mifi Hotspots
Perfect for smaller events, the Jetpack MiFi Hotspot from Verizon is the perfect choice! Suitable for up to 7 connections at once, you'll enjoy 4G LTE speeds with the reliability and coverage of the Verizon network.

As opposed to using your own mobile device as a hotspot, the Jetpack has its own battery so you won't need to worry about draining the battery on your own smartphone or tablet. You'll also have the flexibility of leaving the Jetpack behind so other devices can continue using the hotspot while you take care of other business. With all of the latest WEP/WPA/WPA-2 security and NAT firewall protocols, you can configure your temporary wireless network to have all of the security features that you're used to.

Whether you need WiFi while working at home, need internet access for a Point of Sale system at an event, need to check your work email while traveling on vacation, or any other need for wireless internet, our MiFi devices will keep you connected on the go. Featuring an unlimited data plan, rental rates start at $74 per week. AT&T service is also available. Don't forget to ask us about our 5G hotspots! Be sure to ask about bulk discounts if you're checking for the best value on your hotspot rental needs.
Request a Verizon MiFi Hotspot Quote
Overview
Do you have Wi-Fi enabled devices, such as tablets and laptops, that you want to connect to the internet? The Verizon JetPack MiFi 6620L is able to provide that connection for you. Using the Verizon cellular network, this hotspot will support an internet connection for up to 10 Wi-Fi enabled devices
Stay charged for when you need it the most with up to 20 hours of battery life
Large colorful display with touch navigation keys
Our Latest Internet Hotspot Rental Product
Freedomwifi Rentals
A FreedomWifi rental provides a standalone internet option completely free from the in-house wifi or the 'Free WiFi' you get from event venues. The rates some venues charge for basic internet connectivity can be outrageous or they use their 'Free Wifi' tactics to secure and overcharge you for your other event needs. At Rentacomptuer.com we're not just here to save you time and money, we're here to make your event easy!
Why Freedomwifi Rentals Are Great for Events
Key Features
Bonds multiple LTE connections from the top U.S. carriers.
Bonded speeds up to 150 MBps
Freedom from the in-house - NO venue permission required (FCC Part 15 Compliant)
Network reporting and analytics available
No last minute order penalties!
Deployment options available for multiple areas
Plug & play deployment - quick and easy setup
Unlimited Data Included
Helpful Resources For Finding The Right WiFi Hotspot
Selecting The Right Mobile Hotspot
Whether you're hosting an event, live streaming video, processing payments, or even video conferencing Zoom Meetings, it's important to know how many devices and Mbps your wireless internet router or hotspot supports. While some people choose to sign up for yearly contracts with their mobile carrier like Verizon, the smart money goes to WiFi rentals since you don't get roped into a lengthy contract.
How WiFi Can Make Or Break Your Event
Are you prepared for all of your event guests to connect to your event venue's network at the same time? Without proper planning, large congregations of people can result in spotty reception. The things that drive your event's popularity would all be impossible. No status updates, selfies, or video streams and no "free" social promotion of your event from your attendees is something that can happen if your network is unprepared. Not to mention you'd have dozens or hundreds of upset event-goers, depending on exactly how unprepared you may have been.
The Most Popular WiFi Hotspots In The US
The overall goal of hosting a WiFi hotspot at your location is being able to offer high-speed wireless Internet to your visitors, customers, and staff. These devices are popular for businesses and events for both adding additional private networks and improving current internet speeds. Today we discuss two of our most popular Verizon hotspot rentals: the Jetpack MiFi 6620L (4G) and the MiFi M2100 (5G UW).
All Wi-fi Hotspot Rentals
Nationwide Verizon MiFi Hotspot Rentals Available
Rentacomputer.com has specialized, for over 30 years, in acquiring technology for events and temporary business needs around the world. Whether our client needs a computer, audio visual, event, or office equipment, our top agents can obtain the equipment and coordinate all the finer details of on-site installation.Our agents at Rentacomputer.com also specialize in providing event production, staging, and support services for businesses and institutions worldwide. Rentacomputer.com has experience with a wide variety of clients from many industries and excels at delivering, setting up, and troubleshooting an array of technology. Choosing Rentacomputer as your hotspot rental partner provides you with the proper protection to focus on the other aspects of your events.