Screening Makes it More Difficult to Travel With Laptop Computers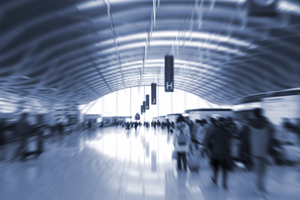 There is more turbulence ahead for executives taking their laptop computers thru airports.
Many company managers are concerned about delays and loss of data over the Transportation Security Agency's latest iteration of the airline-passenger and baggage screening systems.
The two major concerns are:
1. Screening delays caused by executives traveling with laptop computers and other technology such as portable LCD Projectors.
2. Theft of computers with sensitive corporate data.
Fear of the Unknown Variables
How many additional delays will be caused for employees traveling with technology? How many people will have access to sensitive corporate information in the airport screening process? That is the thought on the minds of many company managers.
Granted, many passengers worry about safety and welcome stringent inspections. The question, say experts, is how to balance safety with practicality while keeping delays to a minimum. The business community's concerns are the same as that of the airlines. No one wants delays, but how can you avoid them.
Rentacomputer.com Rental Solutions
Many businesses are opting to rent computers, laptops and projectors from Rentacomputer.com's Technology Travel Agent service. The data on corporate computers is more secure than end user devices. Corporate data can be accessed via Virtual Private Networks (VPN), intranets, or other remote user services like Citrix Metaframe, Microsoft Terminal Services, etc.
Wireless laptop rentals and desktop rentals are configured and delivered to the executive's final destination, be it a hotel, customer site, remote office, convention, trade show or conference. This eliminates airport technology travel problems making traveling almost hassle free.
Customer Testimonial:
Renting computers makes more sense than trying to get computers thru airports. If you have traveled lately, you know how difficult it is to travel with a carry-on computer. Last time I flew, the security at the airport insisted that I turn on my computer before they would let me thru the gate. I was running late and this delay caused me to miss my flight.
Next time I travel, I am renting laptop computers for myself and all of my staff. My rental laptop will be tested, configured to my specification and operational before I get to my destination. Attention to detail, that is what I like about Rentacomputer.com. Whether I need one laptop computer rental or 100 laptop rentals, I can count on Rentacomputer.com to take care of my temporary technology needs.
"For what it costs to rent laptop computers, it is a no-brainer to rent notebooks and laptops. Besides, all my data is on my e-mail or corporate computer. Nowadays it is easy to connect with the home office. And the Rentacomputer.com staff was excellent at assisting me in making my laptop computer rental work." -A satisfied Rentacomputer.com customer.
Never miss a flight due to technology travel again! Use the Technology Travel Agent services from Rentacomputer.com.
Click here for more information about
laptop rentals
.