Press Release

Microsoft Surface Book Rentals From Rentacomputer.com
October 15, 2015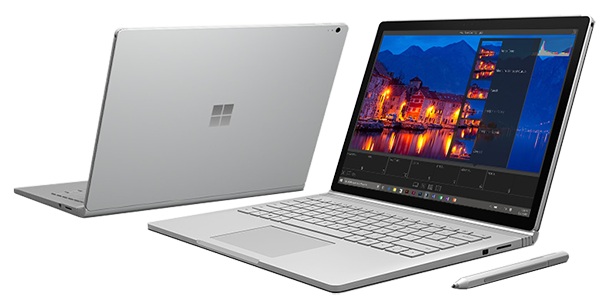 Microsoft has officially unveiled its first laptop and it has been modeled after their popular and successful Surface tablet. The Surface Book is the ultimate 13.5-inch laptop that combines the power and performance of a laptop with the versatility and portability of a tablet.
The Surface Book weighs 3.34 lbs (1516g) and the 13.5-inch PixelSense screen has a resolution of 3000 x 2000. The screen is calibrated for true-to-life color, comes with a high contrast, and has low glare. To add to the Surface Book's versatility, the screen can be detached to be used as a clipboard or rotated and reattached to harness the full hardware accelerated graphics.
The Surface Book comes with the 6th Generation Intel Core i5 and i7 processors and up to 16GB of RAM. Discrete graphics are also optional, offering you more power than your traditional tablet or laptop. The Surface Book makes tasks like designing and sketching to be accomplished with ease. 12 hours of battery life ensures that you will have no problem completing any task, anywhere, anytime.
The Surface Book comes pre-loaded with Windows 10 Pro, which combines the best features of previous Windows operating systems with a host of new features. It's capable of running such programs as Adobe Creative Cloud, Citrix, AutoCAD, Visual Studio and more. Microsoft Office has also been optimized to run on the Surface Book and you can also write directly on web pages with the Surface Pen in Microsoft's Edge Browser.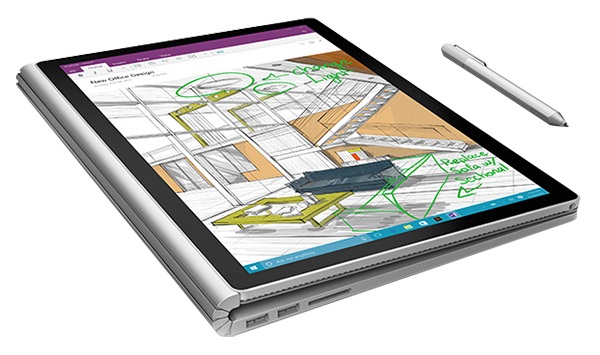 The Surface Pen makes writing feel very natural. A single click of the Surface Pen brings up a blank OneNote page, allowing you to quickly take notes, even if your Surface Book is asleep. Clicking and holding the top of the Surface Pen activates Cortana, your own personal digital assistant. Cortana offers reminders based on time and location and can even book reservations. The Surface Book also comes with the latest facial recognition camera and Windows Hello allows your Surface Book to know that you are you and will sign you in without the need for a password.
There are 5 different
Microsoft Surface Book models available
: 128GB / Core Intel i5 - 8GB. 256GB / Core Intel i5 - 8GB. 256GB / Core Intel i5 - 8GB / dGPU. 256GB / Core Intel i7 - 8GB / dGPU. 512GB / Core Intel i7 - 16GB / dGPU.
Other technical specifications include: 802.11ac WiFi wireless networking. IEEE 802.11 a/b/g/n compatible Bluetooth 4.0 wireless technology. Two full-size USB 3.0 ports. One full-size SD card reader. Surface Connect. Headset jack. Mini DisplayPort. A 5.0-megapixel front-facing camera. An 8.0-megapixel rear-facing camera with autofocus and 1080p HD video recording. Dual Microphones (front and rear facing). Front-facing stereo speakers with Dolby audio. Ambient light sensor. Accelerometer. Gyroscope. Magentometer.
Rentacomputer.com is proud to announce that the Surface Book from Microsoft is available for rent! If you need a device that has all the power and performance of a top-of-the-line laptop with the portability and versatility of a top-of-the-line tablet for your next business event, then the Surface Book from Microsoft is the device you're looking for! Contact us today to get a quote!
Share This Article