Large Quantity iPad Rentals
Client Comments:
"Thank you again for all of your assistance with this as well as all of your help pre-Fair. I would like to tell you that we had great success using the iPads here at our State Fair!! One of the iPads had no sound and did not work with the Square Card Reader, but other than that everything worked great! Our exhibitors, employees, directors and superintendents really enjoyed being able to use the iPads as opposed to binders loaded with lots of paperwork. So we just wanted to express our thanks and tell you we look forward to working with you again in the future." - Barbara Anne from Delaware
"Thank you for all your help in making our event a success, the techs really did help make sure everyone was taken care of." - Justin Conrad from Chicago
"I wanted to thank you very much for everything. Your AV specialist just left. He hooked up our LCD Projector and our presentation went great! Excellent service!"" - Maria from New Jersey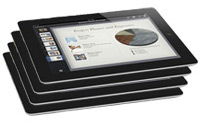 Why Get A Large Quantity iPad Rental?
To keep expenses down, ipad clients would want to access the web via a WiFi wireless network rather than their cellular carrier.
Renting a large quantity of iPads is a a great option if you need to put a lot of mobile devices in the hands of a lot of employees, for a temporary amount of time. For example, if your company is preparing to conduct a large project that requires your employees to keep track of information and stay networked with each other, it makes sense to rent the technology rather than buy it for such an ephemeral need. The kinds of projects that large quantity rentals are usually used for include Computer Training, Software Evaluation, Customer Survey Product Demo, or Inventory Projects.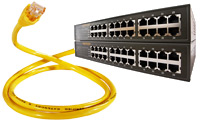 Supporting Your Large Quantity iPad Rental
A large amount of iPads needs the right kind of supporting technology that can keep them running and network them with each other and to the internet. Our Tech Travel Agents can get you any technology you might need to support your large quantity iPad rental, which might include wireless bridges, routers and network servers. We can offer top brands such as Cisco, Bradford Networks, Dell, HP, Juniper Networks and Alcatel-Lucent.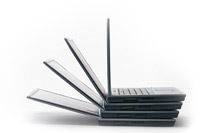 Rent Up To 1000 Laptops
Laptop Rentals are also a great option for large quantity rentals for your company employees, or for company-wide projects. Laptops are equipped with more computing power than most tablet computers and iPads, and they are mobile. Our agents can work up a quote that can include a mixed number of iPads and Laptops, depending on what kind of rental configuration works best for you.

Need large quantity of iPads for more than one year?
If you need any number of iPads for more than one year, consider our leasing options. We can lease any generation of iPad for flexible one to five year terms. Contact a Tech Travel Agent to get started on a leasing contract today.