Client Comments:
"Tony, I wanted to thank you for your services. The team that came out was fantastic; they were very thorough and quick. There were no issues at all with any of the equipment. Everything was perfect. It's always a pleasure doing business with you." - Antonio from Monterey, CA
"From: "Kelly Gulich" Sent: Friday, June 30, 2017 11:59 AM To: "mlewis@rentacomputer.com" Subject: RE: Rentacomputer.com - Order #1773038 Hi Melissa: You are awesome! I really enjoy working with you. Thank you. Kelly Gulich Kelly R. Gulich Conference Manager Technology Student Association 1914 Association Drive Reston, VA 20191 703/860-9000 (o) 703/758-4852 (f) 888/860-9010 (toll free) kgulich@tsaweb.org www.tsaweb.org" - Kelly Gulich from VA
"Thanks, it was a pleasure doing business with you! The iPad rental was great for our marketing presentation. We will most definitely use your service for our future needs!" - Cindy from Alabama
Why Get A Convertible Tablet Rental?
Convertible tablet computer rentals are essentially laptops that are capable of being converted into a tablet computer. With a touch screen that is capable of being turned and folded down over the keyboard, what was operating as a laptop is now a functional tablet computer. These kinds of tablet rentals are excellent if you need a computer that is both highly mobile, and packs more computing power than traditional
Slate tablet rentals
.
Dell Inspiron Tablet Rentals
Dell has developed some impressive convertible tablet computers, where the touch-screen swivels within its frame, allowing you to face the screen outwards and fold the top to turn your laptop rental into tablet computer rental in seconds. The screen itself is a 10" high-definition display.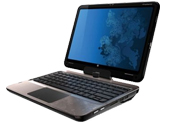 HP TouchSmart Rentals
HP produces convertible tablet PC rentals that exemplify the tradition approach to tablet convertibility, by have the screen swivel where it connects to the keyboard, so that you turn and fold down. This tablet PC well suited for any kind of task that you would need to perform while in transit, whether it be business related or even for entertainment.
Need a convertible tablet long-term?
If you need any number of computers for more than one year, and want to avoid purchasing, consider our leasing options. We can lease anything from desktops or laptops, to tablet PCs for flexible one to five year terms. Contact a Tech Travel Agent to get started on a leasing contract today.