Client Comments:
"I wanted to personally send my thanks to you for the guys that delivered and set up the monitors at our event in Chicago last week. They went above and beyond what was expected and gave us what many others didn't. It was so very much appreciated. They were wonderful!! When we come back to Chicago we would specifically request them again and you as well!!" - Deborah Free, President of Visual Connections from New York
"Your two technicians were there at the convention center all day and they did an excellent job, by checking back on the equipment throughout the day to make sure that everything was working properly. They presented your company in a very positive light. Thank you for your assistance with this and with helping to make our conference a success this year." - George from Missouri
"Thank you and your local staff for your assistance in making the Association for Accounting Administration's 2012 National Practice Management Conference a success. Our goal was to make our event look flawless in the sight of our attendees. Having your equipment on site allowed for us to reach this goal. Thank you again for your time and efforts in supporting our event" - Tracie H. from Dayton, OH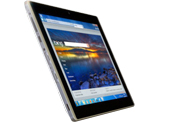 Why Get A Slate Tablet Rental?
Slate Tablets are optimized for mobility, having no attached or detachable keyboard, and typically being ultra thin and light weight. So slate tablets are ideal rentals if you need a computing device while on the go, either traveling or doing a lot of moving around your business during busy seasons.

One of the most popular slate tablet rentals is the Apple iPad, known for its thin and light weight mobility. Getting an iPad rental is a great way to keep track of information while taking advantage of the sleek aesthetics that Apple has always been known for, which can turn the most dull of tasks into something fun.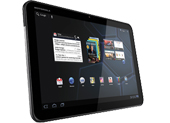 If you have an aversion to Apple products for whatever reason, then excellent alternatives can be found in the Android arena. The most notable of which are the Motorola Xoom and Samsung Galaxy Tablets, which run the latest in Android operating systems specifically designed for tablets. HPs TouchPad is also a great substitute.
Need a slate tablet long-term?
If you need any number of computers for more than one year, and want to avoid purchasing, consider our leasing options. We can lease anything from desktops or laptops, to tablet PCs for flexible one to five year terms. Contact a Tech Travel Agent to get started on a leasing contract today.