Top 5 Reasons to Rent an iPad
By Raj Jain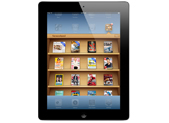 The iPad in its various iterations has changed the computing industry as we know it. Steve Job's vision of an Apple Product in everyone's hand is certainly more achievable today than 3 years ago. Mirroring national sales trends, the iPad has gained popularity in the technology rental market. The Year 2012 has particularly marked an uptrend in activity.
From corporate sales meeting and product demos to software compliance testing, iPads have proven both productive and cost efficient. The following are 5 Top Reasons to Rent an iPad:
1.
Durability
During 2012, Rentacomputer.com has rented more than 1000 iPad units. Our failure rate is less than .01 percent. This is by far the lowest failure rate of any technology product we have ever rented in our 25 year history. They just work, period.
2.
Technology Obsolesce
By renting versus buying you protect your company from technology obsolesce. After the term of your rental, you can upgrade to the latest and greatest new iPad model at any time. The saved capital expenditure can be spent on more productive training, software APPS and future technologies. I.T. Directors and Tradeshow Managers across the country have recognized iPad rentals as a true boon to their bottom line.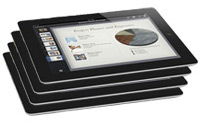 3.
Technical Support
All rental iPads come with hardware technical support. A live technician will respond to your call within 2 business hours. Should the problem not be able to be fixed on the phone, a replacement will be overnighted to you.
4.
Green
By renting iPads for your convention or sales meeting you are helping to save the carbon footprint of our country. Viewing documents and data online, saves hundreds of thousands of trees a year. Further emailing documents directly from iPads to your users keeps them connected electronically showing your company is on the cutting edge of technology.
5.
Apps
Currently there are thousands of useful applications (Apps) on Apple's online store. Like
our favorite conference app, EventPilot
. Apps are revolutionizing the software market by giving users instant access at much reduced prices. Almost gone are the days of $1000.00 productivity software. Many of the most productive Apps can now be purchased at more affordable rates than ever.
For more information on Rentacomputer.com's full line-up of
iPad rentals
and accessories, please contact your Technology Travel Agent today at 1-800-736-8772.
P.S. Did you know know that
New York City
,
Las Vegas
,
Miami
,
Dallas
,
San Francisco
,
Los Angeles
, and
Washington D.C.
were the most popular locations for iPad rentals in 2014??
---
Raj Jain has 15 years of experience in the Computer Rental Industry and is widely recognized as a technology expert by his peers. Raj owns Aria Technology Solutions out of Glenview, IL. Aria specializes in wholesale computer and audio visual rentals.