Computer Rental - The Best Choice During Tax Season
How a Seasonal Business can Benefit From a Computer Rental.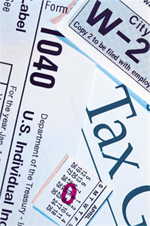 A Computer Rental for the Tax Preparation industry is a common thing, and a good thing, that happens all over the country at the start of each year. It's common because the Tax Preparation industry falls into the same dilemma that many small business do. That dilemma is why buy expensive computer systems when you only have a short term need? Well the answer to that question is that you don't. You use a computer rental to solve that need and preserve your capitol for other projects. And working smarter and saving money, for any business, is always a good thing.
With a recent survey from Information Week showing that in 2008 twenty one percent of Small to Medium Businesses expect to experience a growth of better than 20% the Tax Preparation industry should see a prosperous season in the up-coming year.
Those Tax Preparation firms that are fortunate enough to experience a 20% growth, or better, would be able to keep the latest technology in use for their new staff by using a computer rental to keep that new staff productive should they need to add extra manpower to prepare returns.
A Computer Rental For The Tax Preparation Industry is flexible enough that with just one call a business owner could contact our Tech Travel Agents and schedule the delivery of one to one hundred computer rentals. These systems would then be delivered and set up for immediate use by any temporary staff the business has added to accommodate an unexpected but welcomed growth. This flexibility means there is one less detail for a busy business owner to worry about and as an added benefit any short term computer rental can be done at a fraction of the cost of a purchase.
*Other common computer rental hardware used by those who prepare taxes would be a copier rental, a high volume printer rental for tax season, or even a laptop rental in case there is a need to travel.
To learn more about a technology rentals for tax season contact us today by requesting a quick quote or give us a call.