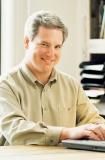 Advice:
7 Reasons why leasing PC and AV equipment makes good sense.
Flexible 1 to 5 year Terms
Leasing is longer term than renting. Here are several reasons why your company may want to lease office equipment including computers.
Preserve Bank Credit Lines
Leasing is an opportunity to preserve your credit lines and eliminate credit worries and hassles. The availability of credit today is unknown, but leasing is still an option. Leasing is a more convenient and efficient way to borrow; you're only charged fro what you use, and you don't have to wait for credit from one source to get your equipment from another. Leasing companies are more flexible than banks and more knowledgeable about the equipment you need.

Technological Advantages
Not only is a lease more convenient, there are several technical advantages such as having the latest hardware and software to run your business. Most importantly, Tech Travel Agents have experience with the equipment they are leasing. They can make the right recommendations based on your individual requirements.

Get state of the art computer laptops, desktops, copiers, flat screen displays, file servers, projectors, software and more.

Your Tech Travel Agent will handle everything including delivery, set-up, and maintenance. Saving you time, money and frustration.

Low or No Down Payment
There are many other advantages a leasing company offers that you can utilize. There are no and low down payment options.

Preserve Capitol Budgets
No initial capital expenditure, so your working capital will not suffer. And the lease payments are lower compared to purchase options.
Possible Tax Savings
Computer Leasing may qualify your business for valuable tax deductions. Check with your company accountant to see if your company qualifies.
Many Financing Options
Finally, there are many financing options that are unique to leasing, including lease purchases, fair market value buy-outs, and structured payments designed to meet your company's cash flow needs.
You consider these advantages when your business is looking to expand. Leasing is a valuable option, especially in today's economy.

Contact Information:
Phone- 800-736-8772
Email- TechTravelAgent@Rentacomputer.com.