Rent Your Windows 10 Systems With Us!
Press Release
Windows 10 Systems Available For Rent
July 30, 2015

The time has come! Windows 10 has officially been released! The newest operating system from Microsoft takes everything that you loved about the old Windows operating systems and combines it with new and exciting features that are sure to give users both new and old something to love!

Even though Windows 10 is a free download for users with Windows 7 or higher, you may still be hesitant to jump right into downloading it on your office computer, especially if you were less than thrilled with Windows 8. Thankfully, Rentacomputer is now offering Windows 10 rentals! When you choose Rentacomputer you'll always have access to the newest OS in your technology rentals for your event, Rentacomputer is able to preload Windows 10 onto any desktop, laptop, or notebook, making sure that your technology is ready for your next business project! At Rentacomptuer.com we're not just here to save you time and money, we're here to make your event easy!
Request a Windows 10 Rental Today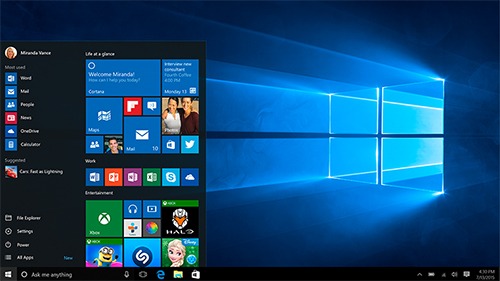 WHAT WINDOWS 10 BRINGS TO THE TABLE
Redesigned User Interface - The new user interface of Windows 10 is more similar to Windows 7, bringing back the Start Menu and key functions that are all accessed from the taskbar, which has a flat, functional feel to it.
Universal Apps and the New Windows Store - Windows 10 takes apps to the next level. Universal Apps is what Microsoft is pushing, hoping that developers will develop their apps once and that they will work across PC, Windows 10 on Mobile and on the company's gaming console, the Xbox One. The hope is also that the apps will work on every screen size with this new Universal App Platform or UAP.
Cortana - Cortana is Microsoft's new personal assistant that is tied directly into the operating system. She can be controlled via talk or type to find things for you or schedule things on your calendar and even remind you of upcoming events.
Microsoft Edge - Gone are the days of Internet Explorer as Microsoft has replaced that browser with Edge. There are still a few things missing, like support for extensions, but developers can easily port them over from Chrome. The new browser is super fast and allows you to do a lot of neat things, like typing notes directly on webpages, and even comes with a read mode that limits distractions when reading text on the screen.
Simplicity - Transitioning from Windows 7 or 8 to Windows 10 will be very easy. There isn't a steep learning curve and the interface is simple and user-friendly.
The rental of a Windows 10 system would be a cost effective way to make sure the software your company relies on for it's day to day operation is compatible with Microsoft's newest operating system. If you're wondering how to rent technology with the Windows 10 OS we're here to answer that question and make the entire process, fast, easy, and affordable.

According to Jason Patrick with Rentacomputer.com a Windows 10 laptop rental could be delivered right to your office for as little as $125 for the entire month. In that month your IT staff should test your companies software for compatibility with Windows 10 and familiarize themselves with the new features so they can better support your users when Windows 10 systems go live on the corporate network. When you partner with Retnacomputer.com on your technology rentals you can rest easy knowing you have access to the best support in the industry.


Share This Article