Large Quantity Laptop Rentals
Client Comments:
"Again you and your company were so very helpful with our copier rentals and we are greatly appreciative!" - Nan from Cleveland, Ohio
"Thank you so much for your lightning fast response!" - Geno M. from Tampa, FL
"I cannot tell you how happy we are with you and your eagerness to get a job done. You have no problem making suggestions that will save us money and your recommendations end up working better, our own clients have even complemented us on this. We've stopped getting bids from other companies because they don't compare to your dedication." - Brandon B. from California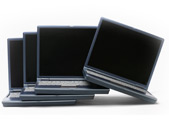 Why Get A Large Quantity Laptop Rental?
Renting a large quantity of laptops can be a great solution if you need to put a lot of laptops in the hands of a lot of employees for a definite period of time. For example, if your company is conducting a large project that involves a lot of people that need to keep track of information and stay connected to each other, it makes sense to rent the technology rather than buy it for a temporary need.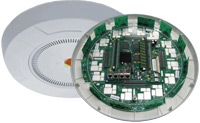 Supporting Your Large Quantity Rental
Pictured above: Xirrus Lan Array
Using a large amount of laptops requires the right kind of supporting technology in order to keep them running and network them to the internet. Our Tech Travel Agents can offer any technology you might need to support your large quantity laptop rental, which might include wireless bridges, routers and network servers. We can offer top brands such as Cisco, Bradford Networks, Dell, HP, Juniper Networks and Alcatel-Lucent.
In order to get everything you need out of your large quantity laptop rental, you will need technology to support a temporary network system that will keep your laptops connected.
Wireless Bridges
A wireless bridge is a piece of hardware that connects multiple networks that are otherwise both physically and logically disconnected. As the name implies, they bridge general networks so that data can be communicated between them. With a wireless bridge rental, you can temporarily link your large quantity laptop rental with any existing network(s).
Routers
A router is another piece of networking hardware that delivers packets of data to networks or terminals, but unless it has a bridge component built into it, it will only rout forward and not establish a two-way connection. So if you want to set up a supporting network for your rentals, you would bridge outside data to your router(s) that would forward the information to any relevant terminals or computers.
Network Servers
A network server is basically a computer that is given the sole task of processing queries for data from a client or user of a connected terminal, and delivering the requested data to the relevant computer terminals that are networked to that central server.

With a supporting network consisting of these three components, and with the help of our experienced Tech Travel Agents, you can scale up a network of virtually any size that is more than capable of supporting even the largest quantity of laptop rentals.
Rent Up To 1000 iPads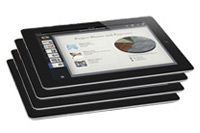 iPad Rentals are also a great option for large quantity rentals for your company employees or for company-wide projects. The iPad is thin and lightweight, which makes it perfect if the users need to stay mobile. Our agents can work up a quote that can include a mixed number of iPads and Laptops, depending on what kind of rental configuration works best for you.
8 Steps to Large Quantity Laptop Rentals

Need large quantity of laptops for more than one year?
If you need any number of laptops for more than one year, consider our leasing options. We can lease any brands for flexible one to five year terms. Contact a Tech Travel Agent to get started on a leasing contract today.