RingCentral IP Phone and Conference Device Rentals
Ring Central provides many different high-end IP Phones and Conference Devices, ready-to-use for your companies convenience. With the top brands of Cisco, Mitel, Poly, and many more, RingCentral makes sure that you are getting the best equipment to date.
Reserve a RingCentral IP Phone or Conference Device
What is RingCentral?
RingCentral is a leading cloud-based communication and collaboration platform that provides businesses with a comprehensive suite of tools for voice, video, messaging, and conferencing. It offers a unified solution that enables organizations to streamline their communication processes, enhance productivity, and facilitate seamless collaboration among teams. With features like virtual phone systems, team messaging, and video meetings, RingCentral empowers businesses to connect and communicate effectively, whether in the office or remotely. Experience the benefits of a VoIP rental today!



Desktop IP Phones
Poly IP Phones
RingCentral provides an IP Phone capable of video with your performance business media desk phone with large color touchscreen, superior audio quality and many other qualities.
Color touchscreen operation with 7" multi-touch LCD display
Make video calls right from your phone with integrated 4 megapixel camera
Hear every nuance with award-winning Poly audio technology
Built-in Wi-Fi and Bluetooth
Powerful chipsets support next-generation features like NoiseBlock AI
Two USB ports (1 x Type A, 1 x Type C) to connect a headset and more
Built-in auto sensing IEEE 802.3af Power over Ethernet (Class 3)
Poly IP Phone Datasheet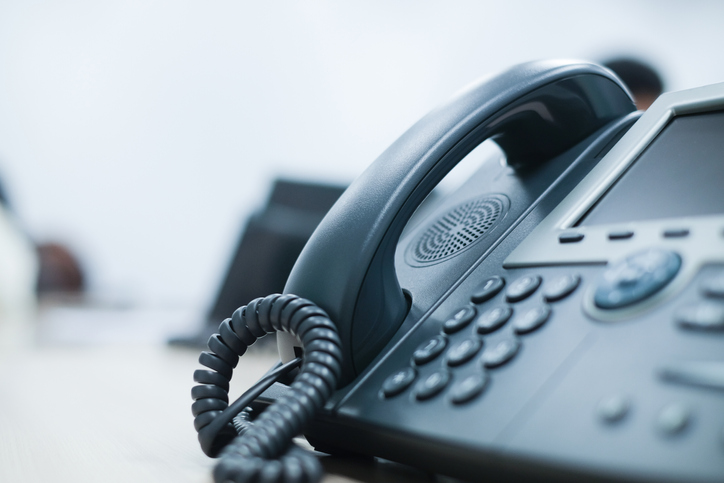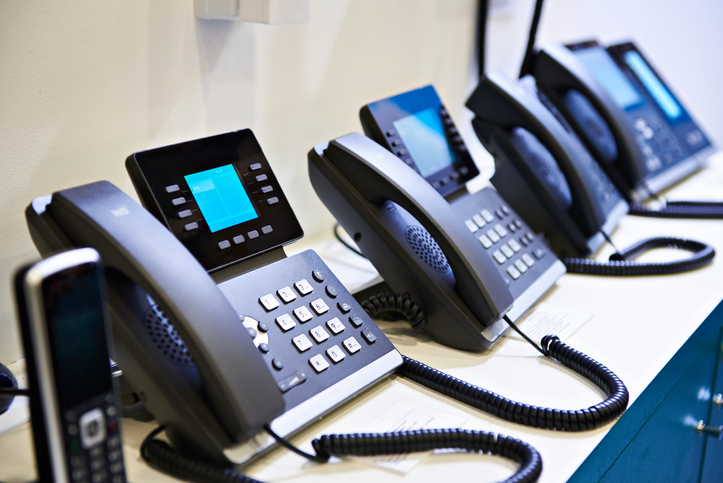 Cisco IP Phones
RingCentral provides Cisco IP Phones with an advanced, feature-rich business phone ideal for knowledge workers in mid-sized to large enterprise businesses. OPUS codec support guarantees High quality (HD) voice and superior sound quality. Features include 2 USB ports, native Bluetooth and WiFi, Gigabit Ethernet, presence, an intuitive user interface, and more.
Up to ten lines with programmable line keys
5" 800x480 color, backlit, graphical widescreen display
Dedicated RJ-9 headset port
Share a single network connection with your phone and PC using the integrated 2-port gigabit Ethernet switch
Integrated Power over Ethernet (PoE) support (Class 4)
Cisco IP Phone Datasheet
Unify IP Phones
Ideal for the collaborative workplace, the CP600 devices offer numerous interoperability capabilities.
Tiltable graphical TFT color display, 4.3" (480 x 272 pixel)
LED backlight (white)
Notification LED (red/green/amber)
5 context sensitive soft keys with LED (red/green/amber)
2 fixed feature keys (Menu/Out-of-office)
4-way navigator, plus OK-key
3 audio keys (Mute/Speaker/Headset) with LED (red or green)
Volume control +/-
Open listening/hands-free talking (full-duplex)
Headset port (DHSG/EHS)
Near field communication (NFC)
Bluetooth 2.1 BR/EDR and Bluetooth 4.1 LE (dual mode device)
10/100/1000 Base-T Ethernet Switch
IEEE 802.3az Energy Efficient Ethernet
IEEE 802.3af PoE, class 2
Key Module 600 optional
Unify IP Phone Datasheet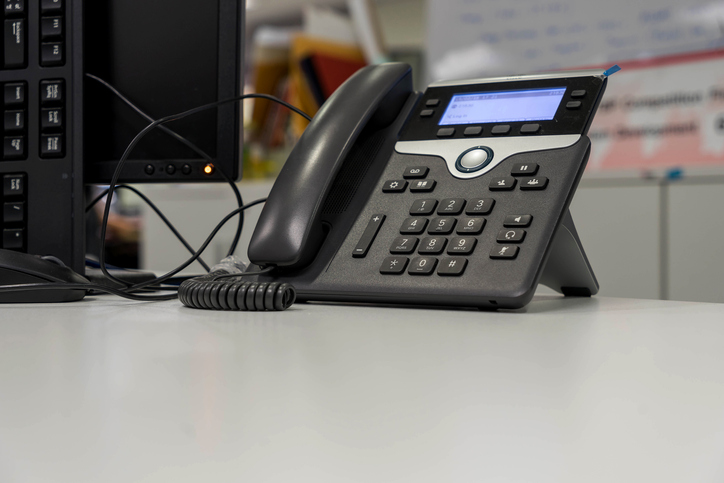 Conference Phones
Poly Conference Phone
A perfect smart conference phone for any meeting space.
5" Color touch display
All-new design with fabric covering, light base, and cable management (USB/LAN/HDMI) underneath and up to 4x faster performance
Poly signature audio - Improved audio performance with up to 22 kHz audio, and distraction-free NoiseBlock AI
Easy to reach touch controls - Conveniently placed, illuminated mute and volume controls
Proximity Sensor (PIR) - To save energy, the system will go to sleep when not in use. When someone is detected within the proximity of the device, it will wake up automatically.
Wi-Fi audio calling (2.4-5 GHz)
Integrated Bluetooth 5.0. BYOD connectivity via Bluetooth, USB
LAN IN: Built-in auto-sensing IEEE 802.3at. PoE Device (Class 4) (requires full Class 4 power input on LAN IN for operation Class 0 if no PSE). Backward compatibility with IEEE 802.3af
Poly Conference Phone Datasheet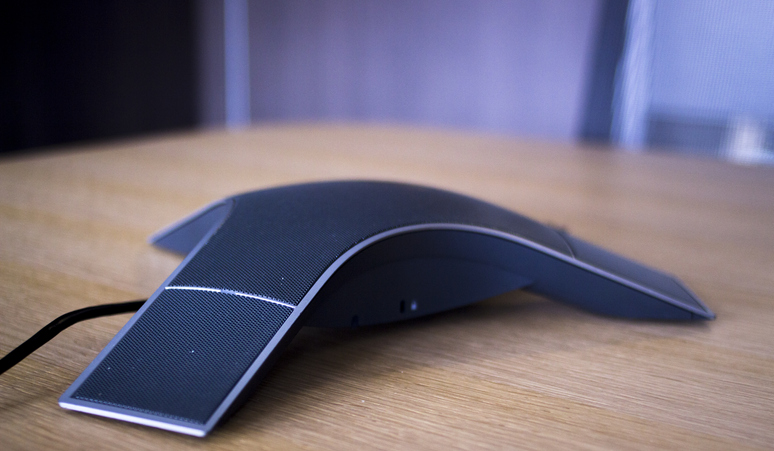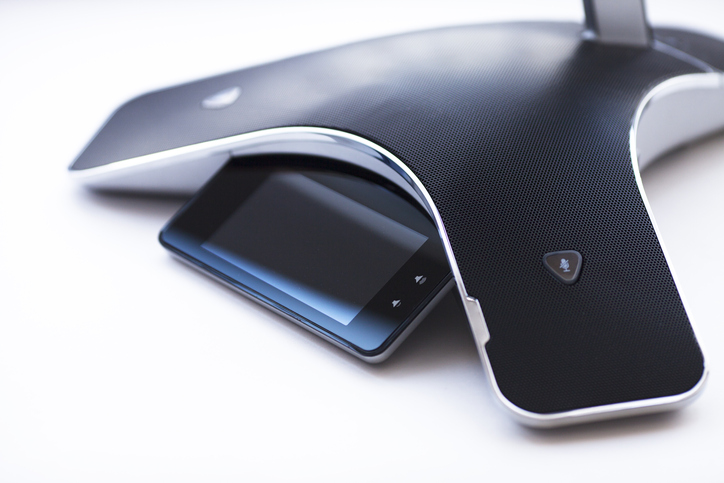 Polycom Conference Phone
Enjoy the industry's most advanced sound quality using this conference phone with enhanced Polycom HD Voice™ capability, 20-foot microphone range, and exclusive Polycom NoiseBlock™ technology.
Patented Polycom HD (high-definition) voice technology
Exclusive Polycom NoiseBlock technology
360° microphone coverage and up to 20-foot (6-meters) microphone
pickup—ideal for large conference rooms
Automatic elimination of non-speech background noise
Versatile speaker phone connectivity over USB, Bluetooth, NFC, and IP
5" LCD color touch-screen display
Built-in power over Ethernet (PoE)
Polycom Conference Phone Datasheet
Yealink Conference Phone
Yealink CP965 is designed for medium and large-sized conference rooms. Based on the Android 9.0 system, it is a flagship HD conference phone that has 13 built-in microphones. In addition, you can also connect CP965 to your mobile device (such as a PC device, smartphone, etc.) via Bluetooth or USB. CP965 can be connected with 3 CPs in a star shape to realize synchronous sound pickup and playback.
Android 9.0
5-inch multi-touch screen with 720x1280 resolution
Optimal HD audio, full-duplex technology
Yealink Noise Proof Technology
20-foot (6-meter) and 360-degree voice pickup
Built-in 13-microphone array
Power over Ethernet
10-way conference call
Built-in Wi-Fi (2.4GHz/5GHz, 802.11a/b/g/n)
Yealink Conference Phone Datasheet