On-site IT Services
Networking, troubleshooting, system and equipment configuration — Rentacomputer.com has techs experienced in all of these areas, and more. Use us at your office, for your event, or to assist with technical aspects of your next project.
On-Site IT Services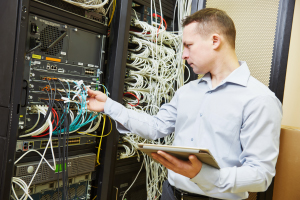 Computer Rental Equipment
Standard Windows desktop rentals configured to match your hardware requirements with options for processing power, memory, graphics and more.
Powerful Windows based work-oriented desktops from HP, Dell, or Lenovo with options for multiple processors, increased RAM, and high end graphics.
Apple's most powerful desktop with 4 or more processor cores. An Apple Mac Pro rental guarantees high performance and intense processing with 8 - 32GB of RAM and state of the art graphics.
Mobile workstation rentals provide the power of a Windows based desktop workstation with the convenience of portability. A mobile workstation rental is the perfect high end portable rental for engineers and designers on the go.
Apple's most compact and lightweight laptop to date. The MacBook comes equipped with a cutting-edge, 12-inch Retina display and weighs only 2 lbs.