On-site IT Services
Networking, troubleshooting, system and equipment configuration — Rentacomputer.com has techs experienced in all of these areas, and more. Use us at your office, for your event, or to assist with technical aspects of your next project.
On-Site IT Services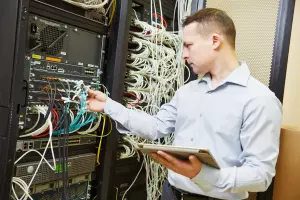 Wireless networks for large events require careful planning and analysis — as does the configuration of large quantities of computers and tablets. Rentacomputer.com provides easy solutions to event IT issues such as these with a team of skilled system and network engineers ready to provide on-site IT services. We can help with any IT-realted service, ranging from setting up complex project-critical systems to configuring rental equipment for an event.

Our rental agents will work to understand your specific needs and help you find the best solution to your technical challenges. Our goal is to ensure all of your technology-related tasks are handled, allowing you to focus more on your event.


Event and Project IT Services
Configuration and Networking Services
Our IT professionals are versed in a range of services including:
Wireless Network Setup
Operational Support
Software Configuration
System Monitoring
Get On-Site IT Services
Custom Solutions
How We Can Help
Along with delivering equipment to your event or project site, our team of experienced IT professionals will make sure everything is set up to your specifications and runs smoothly. We will troubleshoot any preloaded software or network issue, ensuring event attendees have the best experience possible.

No matter the size or scope of your event, we will work to provide the IT services you need to ensure all of your technology needs are met.