div id="mainContainer">

IMAG System Rentals
Client Comments:
Video Camera Systems For Image Magnification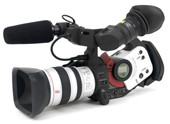 Why Rent An IMAG System?
An IMAG System is a network of video cameras set to the task of recording a large event for the purpose of broadcasting the capture images on large screens, or for purposes of producing documentation of the event. If an event is large enough, it can be difficult to see what is going on for those who are seated far away from the center of the event. With an entire system of cameras with which you can capture the event, all attendees can enjoy the event and be fully aware of what is going on.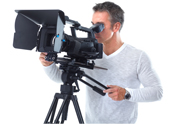 More Cameras, More Cross Fades & Cutaways
An IMAG System Rental can have any number of cameras, depending on your budget. The more cameras you have however, the more dynamic your documentation of the event will be. Whether you are just magnifying an image of the event, recording the event or both, it is important to be able to cross fade and cutaway from one viewing angle to another; this allows you to capture more video of the event in general, and makes a very impressive video display or production.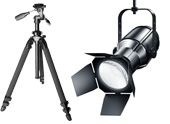 Important IMAG Peripherals
IMAG System Rentals from Rentacomputer.com include more than just cameras, they also include various other peripherals that are necessary for operating a camera system. These include:
Tripods
Studio Configuration Kits
Lighting
Switchers
Record Decks
Our agents also recommend having a camera operator per each camera and a minimum of two cameras. All these are usually a MUST HAVE when doing I-MAG. Contact your Tech Travel Agent for a complete IMAG System Rental.

Need IMAG systems long-term?
If you need IMAG systems for more than one year, consider our leasing options. We can lease anything from professional grade cameras to lighting systems for flexible one to five year terms. Contact a Tech Travel Agent to get started on a leasing contract today.