Rentacomputer.com Developer Services
Whether you are developing for VR, a video gaming system or a tablet, Rentacomputer.com has all the the equipment you need to test your program across different devices. We will ship rentals in any quantity to meet your development testing needs.
Developer Services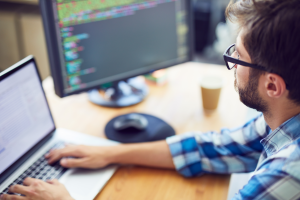 Rental Equipment for Developers
Standard Windows desktop rentals configured to match your hardware requirements with options for processing power, memory, graphics and more.
Powerful Windows based work-oriented desktops from HP, Dell, or Lenovo with options for multiple processors, increased RAM, and high end graphics.
Apple's most powerful desktop with 4 or more processor cores. An Apple Mac Pro rental guarantees high performance and intense processing with 8 - 32GB of RAM and state of the art graphics.
Mobile workstation rentals provide the power of a Windows based desktop workstation with the convenience of portability. A mobile workstation rental is the perfect high end portable rental for engineers and designers on the go.
Apple's most compact and lightweight laptop to date. The MacBook comes equipped with a cutting-edge, 12-inch Retina display and weighs only 2 lbs.
With many developers creating and demonstrating new VR games and programs, renting VR headsets allows for teams to work collaboratively on testing tasks without purchasing several VR headsets.
Vive is brought to you by HTC and Valve. Room-scale experience, precise motion tracking, and a Chaperone guidance system.
Made by Samsung and Microsoft, the Odyssey is a fresh contender in the virtual reality marketplace.The Odyssey offers immersive worlds, with slightly less setup requirements than other high-end Virtual Reality options due to its new built in tracking technology.