Myrtle Beach Convention Center Technology Rentals
Myrtle Beach, South Carolina
2101 North Oak Street / P.O. Box 1828 Myrtle Beach, South Carolina 29578
Myrtle Beach Convention Center Rentals & Services
The Myrtle Beach Convention Center is a 8,000 seat multi-purpose sporting arena in Myrtle Beach, South Carolina. This venue hosts various concerts and sporting events for the area and was home to the Myrtle Beach Stingrays of the National Indoor Football league in 2003. The Myrtle Beach Convention Center was also location of one of the 2008 presidential primary debates. On January 10 six presidential hopefuls including ron Paul attended the debate. Also starting in 2009 the convention center will be the primary headquarters for the Bi-Lo Myrtle Beach Marathon. With facilities capable of handling nearly any event and convention need, easy access, and it's unique environment in a beach town, the Myrtle Beach Convention Center is a smart choice for your next conference or event.
Rentacomputer can supply short term equipment for your booth at the Myrtle Beach Convention Center. We offer a wide selection of equipment to satisfy your booth equipment needs including: laptops, plasmas & plasma stands, projectors, video walls, pipe & drape, audio visual equipment, staging equipment and many more
event technology rentals
. Renting your equipment gets rid of the hassle of bringing your own equipment or buying new equipment. We offer on site delivery and installation of our rental equipment and can answer any questions you have about the equipment rental.
So if you are planning a trip to a trade show in Myrtle Beach then give us a call, relax, and let your Tech Travel agent book your Myrtle Beach Computer Rental needs for your next Myrtle Beach Convention Center show.
*Rentacomputer.com is not affiliated with or in any way authorized by the Myrtle Beach Convention Center. Rentacomputer.com is an independent nationwide technology rental provider and this page in no way implies exclusivity of our services at the Myrtle Beach Convention Center.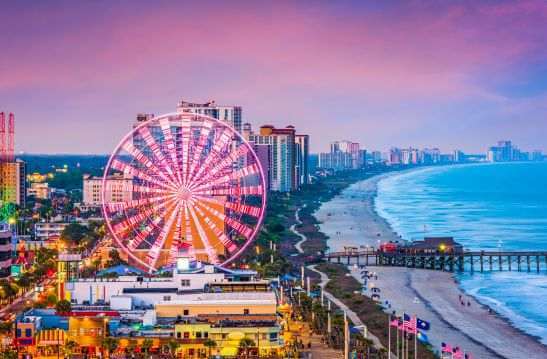 Myrtle Beach Convention Center Equipment Rental Products
Other South Carolina Convention Centers
Sumter County Exhibition Center
700 W. Liberty St.,
Sumter, SC 29150


Civic Center of Anderson
3027 Mall Road,
Anderson, SC 29625


Greenwood Civic Center
Hwy. 72, 221 E.
Greenwood, SC 29649