Rent Tablet PCs from Rentacomputer.com
Click on the link below for a fast laptop rental quote:
Tablet PC with Win XP Tablet Edition
Tablet PC Rentals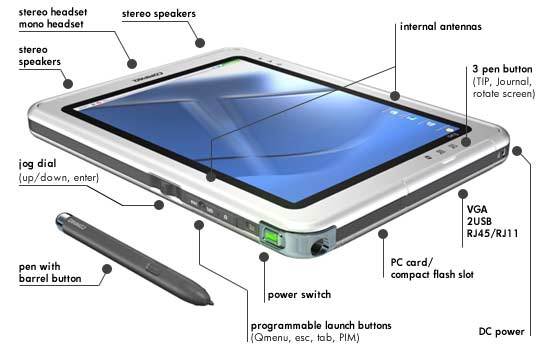 The Tablet PC provides all of the features, reliability and power of Windows XP, plus pen and ink capabilities that allow you to write directly on the screen or use the pen as you would a mouse and keyboard. The Tablet PC extends the way you would use a laptop or notebook computer. You can use the wireless pen to take notes while in meetings, sketch ideas, even add personality to your e-mail and instant messages.
Support for wireless internet connections and networks mean you can use the Tablet PC just like your regular laptop computer. You can even power up your Tablet PC immediately with the rapid resume feature.
Use your a rental Tablet PC to create, edit, organize, and search handwritten notes and drawings that you would typically record on paper. The Tablet PC comes with Microsoft Windows Journal, a note-taking utility.
Try the rental Tablet PC to put a personal touch in your e-mail and messages. With Microsoft Office Outlook 2003 and MSN Messenger you can send handwritten notes and drawings. This is great for sending personalized messages to friends, family, and co-workers even if they don't have a Tablet PC. Outlook even allows you to add your handwritten signature at the end of all your e-mail.
Enhanced features in Windows XP Tablet PC Edition 2005 include the redesigned Tablet PC Input Panel (TIP) which makes it quicker and easier to convert your handwriting to text. The Input Panel launches wherever you want to write and automatically enlarges to ensure a natural writing experience. Words and characters are recognized dynamically so you can easily make corrections before inserting text. Improvements to the handwriting recognition capabilities of Tablet PC include support for context awareness. This improves recognition of common entries such as e-mail addresses and URLs.
Mark up Microsoft Office Word 2003 documents and add ink comments, annotate Microsoft Office PowerPoint 2003 presentations, take digital notes in OneNote 2003, and send ink e-mail messages to coworkers and friends. Your ink documents can then be shared with other computer users—even if they are not using a Tablet PC.
The Tablet PC has a comfortable, lightweight design, holds like a book, and is effortlessly portable allowing you to use while standing or sitting. Create as well as review and edit content and share it easily with available wireless choices and wired access to e-mail and other network resources. Learn how to double-click with the pen. Far better than a PDA, this Tablet PC is a full-functioning Windows XP compatible computer.