Play Big IN1 Gaming Projector from InFocus
Now theres a projector for monsters, demons and heroes, not just celebrities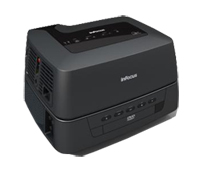 InFocus announced their new projector, the Play Big IN1, will be directed towards the gamer audience. The Play Big IN1 has been designed specifically for gaming consoles like the Xbox, PlayStation, or Wii. The Play Big IN1 is an all-in-one projector, with multiple S-video inputs for seamless connection to cable and satellite boxes or to DVD players.
The IN1 puts the gamer in the action by increasing the display by up to 8 feet! The IN1 also comes with Texas Instruments DLP technology, for clear and vivid projection up to 3,000 lumens. The IN1 has premium audio and a built-in amplifier with two-speaker stereo. The projector even utilizes a mirror for ceiling projection. A portable projector with beautiful color and contrast, a good audio system, and made specifically for console gaming? The IN1 is a gamer's dream projector.
Keep an eye on our Projector Rentals for the Play Big IN1 soon!