Sharp Projector Rentals
A high quality picture, paired with a user-friendly operation, make Sharp projectors a great addition to your business presentation or event.
Request A Sharp Projector Rental Quote
SHARP PROJECTOR RENTALS FOR BUSINESS EVENTS AND PROJECTS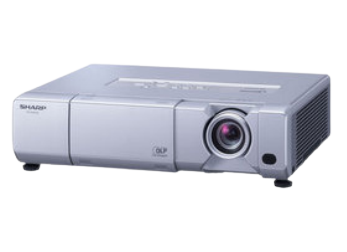 Utilizing advanced technologies, such as the Texas Instruments DLP Brilliant Color features, this Sharp projector offers viewers brighter images, more efficient functionality, and user-friendly features. The Sharp PG-F310X features 3,000 ANSI lumens and a 1024x768-pixel XGA native resolution that is fully compatible with resolutions up to UXGA for versatile use in many types of rooms and set-ups.

Along with its brightness and room flexibility, this DLP projector contains a DVI-I input port for compliance with HDCP, making it an ideal choice for video and computer sources with HD settings. The Sharp projector is also a suitable choice for commercial applications with its portability and 4.6-foot to 39.7-foot screen distance that can be easily seen in large rooms.
Request aSharp Projector Quote
Check Out Our Other Projector Brands!
Overview
With 4000 ANSI lumens of brightness and a 2200:1 contrast ratio the WXGA (1280 x 800) resolution Sharp PG-D40W3D DLP 3-D Projector has the projection power to display large images in well-lit rooms. In addition to being bright, those images will be vivid and beautiful thanks to the PG-D40W3D's Texas Instruments DLP DMD imaging chip, the part that forms the picture. TI's DLP chip with BrilliantColor creates vibrant, true-to-life colors that seem to jump off the screen.
Nationwide Projector Rentals Available
For over 30 years, Rentacomputer.com has specialized in providing projectors for short or long term presentations or conventions. Whether a client needs a 3D projector or a bright LCD projector, our agents can obtain the equipment and coordinate all facets of on-site installation. Our agents also specialize in providing event production, staging and support services for businesses and institutions worldwide. Rentacomputer.com has worked with clients in many industries and excels at delivering, setting up and troubleshooting a wide variety of technologies.