Atlanta, Georgia PC/AV Rentals & Services
Atlanta, Georgia Rental Venues
Georgia World Congress Center


Georgia International Convention Center


Atlanta Convention Center at AmericasMart


Cobb Galleria Centre


Courtyard Atlanta Vinings


Rentacomputer.com proudly provides IT equipment rentals and setup to all the popular venues, hotels and universities in the greater Atlanta area. So, if you are looking for a computer, AV, or Office equipment rental in Atlanta, GA we have you covered.
Visiting Atlanta for a trade show, a corporate event, or even a big national gala for a non profit? If so, then Rentacomputer.com Atlanta is your one source for all your short term computer, AV, and office equipment rental needs! A few examples of how our affordable rental services have helped Atlanta business with their shot term IT needs include: High volume copier and large screen display rentals for high profile trials and "legal war rooms". Also, we often have the pleasure of providing hundreds of laptops and tablets to Atlanta's largest firms, like Coca-Cola and Georgia-Pacific, who take advantage of the mobility, and affordability, of our rentals to conduct critical training classes and market research. Remember..No matter the size of your company, or the size of your event, if you need a computer rental in Atlanta your friendly Tech Travel Agent with Rentacomputer.com will deliver all the equipment you need, with one call, and one low price! Call today at 404-239-3978.
Atlanta, Georgia Featured Rental Product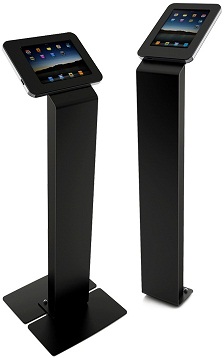 iPad Kiosk Rentals
iPad kiosk rentals are very popular for Atlanta based events. They are great tools for conventions, trade shows and even training classes. They are commonly rented for event registration, event check-in and audience engagement.
Atlanta, Georgia Featured Rental Services

Software Imaging & App Installation
Rentacomputer.com offers software imaging and application installation services for your rental. If you have custom company software for a training class, we can simply image as many laptops or tablets as you need with that software for use at your Atlanta event. If you have other software or application requirements like Office, we can install them for your event as well!
Quick Reference Card For Atlanta Event Planning
Available Atlanta Computer / AV Rentals By Product
Atlanta Computer Rentals:
Desktops, Laptops, iPads & Tablets, All-In-Ones and Servers


Atlanta Audio Visual Rentals:
Projectors, Displays, HDTVs, Monitors, Video Walls, Interactive Touchscreens and Sound Systems


Atlanta Office Equipment Rentals:
Copiers, Printers, Fax Machines, Scanners, Mulitfunctional


Atlanta Wireless Rentals:
Hotspots, Smartphones, Two-Way Radios, Push To Talk Rentals, and Aircards


Technology Rentals In Atlanta By Brands:
Acer, Apple, BenQ, Dell, Hitachi, HP, IBM/Lenovo, InFocus, LG, NEC, Panasonic, Philips, Samsung, Toshiba and Viewsonic
---
Atlanta Tech & Event News
From SMBNow.com
The Technology Association of Georgia's Top 40
The Top 40 Awards from TAG are given to tech companies based in Georgia for their innovation, financial impact and their efforts in spreading tech initiatives from Georgia throught the globe... (Continued)
From the Modern Traveling Blog
Some of the Best Music Festivals of 2015 are in Atlanta
For anyone located in the Atlanta area or anyone who may be traveling there this year, there are a ton of events that feature lots of great music. There is something for everyone; rock, jazz, country, rap, and a ton of huge artists and local talent as well. Here is a list of events that you should check out!.. (Continued)
From the Modern Traveling Blog
GaETC 2015 Brings Together Educators and Tech Professionals
The 2015 Georgia Educational Technology Conference is set to take place from November 4 through November 6 at the Georgia International Convention Center in College Park... (Continued)