Software Services
We offer custom software installation and solutions for any project. From preloading software on rentals to designing customized marketing software — we create solutions for your toughest technical challenges.
Software installation and services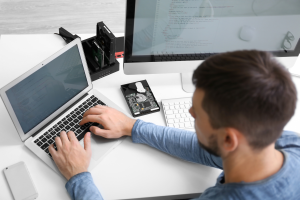 Computer Rental Equipment
Standard Windows desktop rentals configured to match your hardware requirements with options for processing power, memory, graphics and more.
Powerful Windows based work-oriented desktops from HP, Dell, or Lenovo with options for multiple processors, increased RAM, and high end graphics.
Apple's most powerful desktop with 4 or more processor cores. An Apple Mac Pro rental guarantees high performance and intense processing with 8 - 32GB of RAM and state of the art graphics.
Mobile workstation rentals provide the power of a Windows based desktop workstation with the convenience of portability. A mobile workstation rental is the perfect high end portable rental for engineers and designers on the go.
Apple's most compact and lightweight laptop to date. The MacBook comes equipped with a cutting-edge, 12-inch Retina display and weighs only 2 lbs.