Conference AV Equipment Rentals
Client Comments:
"I would like to extend my appreciation for your services. Our conference was a success and the computers were delivered on time and they worked perfectly. Also, Jason Patrick was great to work with. He was patient, consistent, and very knowledgeable. Great customer service! We look forward to working with Rentacomputer.com in the future." - Tamisha T from Chicago
"Thank you and your local staff for your assistance in making the Association for Accounting Administration's 2012 National Practice Management Conference a success. Our goal was to make our event look flawless in the sight of our attendees. Having your equipment on site allowed for us to reach this goal. Thank you again for your time and efforts in supporting our event" - Tracie H. from Dayton, OH
"Your two technicians were there at the convention center all day and they did an excellent job, by checking back on the equipment throughout the day to make sure that everything was working properly. They presented your company in a very positive light. Thank you for your assistance with this and with helping to make our conference a success this year." - George from Missouri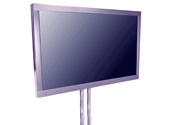 Plasma Rental
If you're planning to exhibit at a trade show or convention in the near future and you're looking for a way to spruce up your exhibit and attract attention, you can't go wrong with a plasma TV rental. Large formats are ideal for large events such as conferences, and our agents can get the right format for your needs delivered to your conference and set up.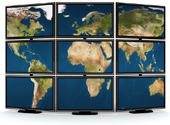 Video Wall Rental
If your video format needs exceed the limits that a single plasma screen can provide, then a video wall rental is the way to go. Video wall rentals are a great solution for large video format needs, which often arise when showing video for large crowds at conferences. Whatever size display you might need, our agents can offer anything from a 2 x 2 panel display to a custom format suited specifically for your needs.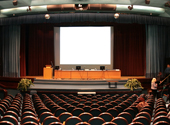 Conference Equipment Delivery & Installation
Pulling together all the technologies needed to make a great conference can be a taxing and arduous task, and when compounded with having to handle other logistical problems that go along with conference planning, things can quickly become overwhelming. With a single phone call to a Tech Travel Agent, all of the logistical problems that go along with technology acquisition, delivery and installation can be made to converge into that single point of contact; thereby easing the stress that accompanies conference planning.
Lighting Sail Rentals
Lighting sails are excellent additions to a lighting system arsenal. They are basically interestingly shaped back drops that have colored lights shined on them, and since they are typically white they take on the color that the light source projects onto them. This can create very dynamic lighting displays that will leave a lasting impression on an audience, or on attendees of your event. Lighting Sail Rentals can be three-pointed, four-pointed or five-pointed - where a point is the place where the sail is stretched to and attached to a supporting structure.