Lighting Equipment Rentals
Client Comments:
"We are good right now – but rest assured – Rentacomputer.com is our "go to" vendor whenever we need equipment! You guys are awesome : ) " - Cindy Zmijewski from Medford Lakes - NJ
"I just wanted to drop you a line and say thanks for the great service for our User Conferences. You team was professional, on-time and helpful." - Greg L. from Santa Rosa, CA
"Thanks Randy, Mike was AWESOME to work with! : ) Rosalie" - Rosalie from Beaverton, OR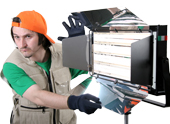 In The Right Light
The right type of lighting is one of the most important aspects to any type of video or film production. We carry all the latest in innovative hardware and Lighting Equipment Rentals for use in film production such as commercials, independent films, television productions, promotional ads, documentaries, or any other type of film or photography production.
Arri Light Kit
This is a very versatile package that can be configured for most lighting needs. Custom configure for your exact needs by ordering as many lights as you see fit in varying wattage fresnels with stands. These come in the sizes of 1Kw Open Face, 650W, 300W, 150W and can come with a softbox and speedring as well as gels, carrying case, and scrims for each light. These can also come with a variety of diffusion materials and are easily assembled making them great for outdoor use and scenes which are constantly changed.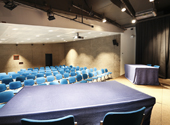 Corporate Event Lighting
Corporate events often call for a variety of lighting types, in complicated configurations. Whether you need track lighting, spot lighting, or dynamic color lighting, your Tech Travel Agent can get the right lighting system for you.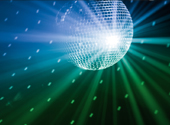 Party Lighting
Whether hosting a corporate-wide party, or a very large personal gathering, the crowd needs to be entertained. Having a dynamic lighting configuration to augment the musical experience had at a party is invaluable to keeping guests stimulated. So contact your Tech Travel Agent to get the right kind of lighting system for your big party.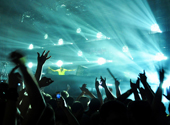 Show & Concert Lighting
If you are putting on a show or concert at a given venue, and need more or better lighting than the venue has to offer, you should contact a Tech Travel Agent. We can get the right kind of lights and lighting system to suit your needs, so that you can blow your audience away visually.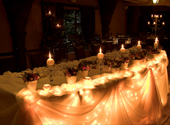 Wedding Lighting
Setting the right mood is paramount for a good wedding, and lighting is crucial for setting the appropriate mood. Weddings are occasions that call for soft lighting, that make the impression of delicacy on the attendees, and participants. Getting a Lighting System Rental for a wedding ceremony is a perfect solution for a very temporary, and for all intended purposes, one-time need. So let your Tech Travel Agent help you make your wedding everything that it should be.
Lighting Sail Rentals
Lighting sails are excellent additions to a lighting system arsenal. They are basically interestingly shaped back drops that have colored lights shined on them, and since they are typically white they take on the color that the light source projects onto them. This can create very dynamic lighting displays that will leave a lasting impression on an audience, or on attendees of your event. Lighting Sail Rentals can be three-pointed, four-pointed or five-pointed - where a point is the place where the sail is stretched to and attached to a supporting structure.

Need lighting systems long-term?
If you need lighting systems for more than one year, consider our leasing options. We can lease anything from on-camera lights to Arri light kits for flexible one to five year terms. Contact a Tech Travel Agent to get started on a leasing contract today.