LG Electronics Projector Rentals
Client Comments:
"I sent the 6500 lumen projector and short lens back yesterday. They worked very well! Thank you sooooo much!" - Joan from Nebraska
"Days before I was going to make an important sales pitch, the bulb in my projector blew out. I needed a projector fast so I could make my video presentation, so I contacted Rentacomputer.com, and they delivered a projector where I needed it." - Dwight K. from Philadelphia, PA
"Thanks Randy! We'll definitely be in touch the next time we need to rent any equipment! We had a wonderful experience working with you. The projector rentals were great for the art showing!" - Projects NYC from New York City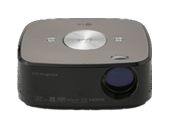 Why Rent an LG Electronics Projector?
LG Electronics is an industry leader with expertise that encompasses display, storage, imaging, wireless and broadband areas. LG Electronics also offers technology solutions for any possible application, from home entertainment and cinema to business and professional displays.
Portable Projectors
LG Electronics projectors offer portable projectors for a variety of situations. All of LG Electronics' portable projectors feature PC-less presentation, wide screen capability, wireless capability, and are compact and lightweight. Whatever your projection needs are in transitive situations, a Tech Travel Agent can supply you with the right kind of LG Electronics portable projector.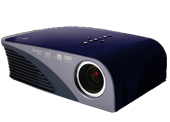 Small But Bright
If you need to project images within a very tight space, an LG Electronics short throw projector is the way to go. These projectors can project an image a very short distance without sacrificing quality or size of projection, which is ideal if the conference room in which you need to make your presentation is particularly small; or if you do not have a lot of available space at your trade show.

Need an LG Electronics projector long-term?
If you need any number of LG Electronics projectors for more than one year, consider our leasing options. We can lease any kind of LG electronics projector to suit any situation for flexible one to five year terms. Contact a Tech Travel Agent to get started on a leasing contract today.