NEC Projector Rentals
Client Comments:
"Days before I was going to make an important sales pitch, the bulb in my projector blew out. I needed a projector fast so I could make my video presentation, so I contacted Rentacomputer.com, and they delivered a projector where I needed it." - Dwight K. from Philadelphia, PA
"I sent the 6500 lumen projector and short lens back yesterday. They worked very well! Thank you sooooo much!" - Joan from Nebraska
"Thank you Randy, I really appreciate your help with our projector rental for our training session!" - Jennifer D. from San Diego
Why Rent a NEC Projector?
The NEC projector has some really interesting and useful features. Such as the 3D Reform Function, which allows the user to correct any trapezoidal dimensions in the projection which often arise when projecting in an awkwardly small space. With this feature one can adjust each of the four corners independently.
The NEC projector also features a PC card slot which can support wireless/wired LAN and PC-less presentations. This is ideal for situations where there are multiple presenters, since users can connect and project a presentation from their own laptops wirelessly.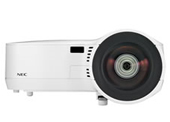 NP Portable Projector Series
The NP Portable Series provides all the features that you need from a portable projector, and each projector in the series has intuitive functionality, along with fast plug-and-play operations for those quick-setups. All NP Portable projectors show bright images, versatile connectivity, automatic keystone correction, and much more. So if you need a projector that is powerful as well as portable, call your Tech Travel Agent for a NEC NP Portable Projector Rental.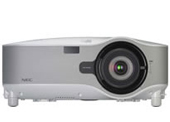 Professional Integration Projector
Our agents can also offer an array of NEC projectors that are designed specifically for audio-visual integration. The NP3250 offers stacking capabilities along with a stacking correction tool for correcting the projections as they relate to one another. With a single phone call to a Tech Travel Agent you can have a single solution for all your integrated audio-visual needs, and impress your target audience with an integrated audio and visual masterpiece.

Need a NEC projector long-term?
If you need any number of NEC projectors for more than one year, consider our leasing options. We can lease any kind of NEC projector for flexible one to five year terms. Contact a Tech Travel Agent to get started on a leasing contract today.