Tablet PC Rentals
Client Comments:
"We are very happy with your services and will use you guys again next year for our event!" - Philips Medical Center from Illinois
"Just wanted to thank you for working with us this year. The equipment was great and you were great in helping us out with any issues we faced. We look forward to working with you again in the future." - Abdel from San Francisco, CA
"Darcy, the iPad2s worked great for our purposes - we are happy to have found you as a resource!" - Screen D'Or Pictures from Montclair, NJ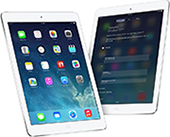 Why Get A Tablet PC Rental?
Tablet PC rentals are known for their high degree of mobility, since they are typically thin and light weight, making them ideal for travel. With a Tablet PC Rental you can keep track of the information you need, as well as stay connected to the web. When considering a Tablet PC Rental you should also consider renting a tablet that is 3G capable.
Rugged Tablet Rentals
are also available for demanding environments.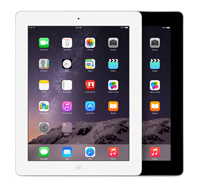 Apple iPad Rentals
We offer all iPad models, including the iPad 2, the third generation iPad, the new
iPad Mini
and
iPad Air
. The Apple iPad is one of the most popular and recognizable tablets in the industry. Generally used for transient situations, the iPad is great for documents, music, video, and internet browsing. They are also great for other applications such as trade show booth kiosks and survey tasks. Combined with 3G service, your iPad rental can connect wirelessly to the internet.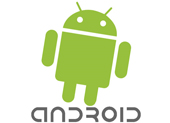 Android Tablet Rentals
There are a variety of Android tablets available in the industry, most notably are the Samsung Galaxy Tab and the Motorola Xoom Tablet. Android tablets are very similar to Apple's popular iPad, they are extremely portable and are capable of doing most computing tasks. The only noticeable differences between an Android device and an iOS (Apple) device, are the interfaces, the usability and of course different app stores.

Tablet PC Rentals For Survey Administration
If you need to collect data on any subject, then tablet PCs are a great tool to utilize. Your survey administrators can gather and organize data while on the go, since tablets are thin and lightweight. Contact your Tech Travel Agent to start surveying with your tablet PC rental!
A Few Great Apps For Use With A Tablet Rental Include:
Square - Allows users to have a mobile store and take credit cards at festivals, trade shows and events with only a tablet and internet connection.
Evernote Business - Seamlessly share knowledge and resources across the entire company . Perfect for events requiring team collaboration.
Surveygizmo - An exceptionally powerful survey tool designed to make even the most advanced survey projects fun, easy & affordable.
Ground Game - A groundbreaking battle-tested mobile canvassing app that's perfect for tablet rentals during the election season.
Need Your Tablet Imaged To One Or A Hundred Tablet Rentals? No Problem!

Smartphones are a great tool for communication and travel. Smartphones are another alternative to tablets, two-way radios and push to talk phones. Smartphones have cellular access, internet connectivity and you can download useful apps.