Tablet PC & iPad Rentals for Survey Administration
Why Get a Rental for Administering Surveys?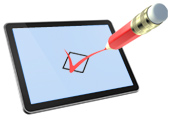 Tablet PCs or iPads are a great tool for administering surveys to customers, or for gathering information for marketing purposes. The thin and lightweight qualities of tablet computers make it very easy to commute an area, and to enter the relevant data into a database in an instant.
Let Rentacomputer.com Help Your Brand!
Popular Rentals for a Survey Administration