Georgia World Congress Center Technology Rentals
Atlanta, Georgia
285 Andrew Young International Blvd NW, Atlanta, GA 30313
Georgia World Congress Center Rentals & Services
The GWCC is far and away the most popular convention center in Atlanta. At 3.9 million square feet, it is the fourth largest convention center in the United States. It was opened in 1976 and was the first state owned convention center.
Three adjacent buildings make up the GWCC, Buildings A, B, and C. Building A contains the Sidney Marcus auditorium, with seating for 1,740, and three exhibit halls. Building B contains the Thomas B. Murphy Ballroom and five exhibit halls. Building C contains the Georgia Ballroom and four additional exhibit halls.
The CWCC ranks as one of the best sports and entertainment campuses in the word with the Georgia Dome seating 71,250 and spanning 21-acres. If you are operating a booth in the Georgia World Congress Center, getting an
Atlanta event technology rental
from Rentacomputer.com can help save you time and money, while also guaranteeing that your booth is equipped with the most modern of cutting-edge technology.
*Rentacomputer.com is not affiliated with or in any way authorized by the Georgia World Congress Center. Rentacomputer.com is an independent nationwide technology rental provider and this page in no way implies exclusivity of our services at the Georgia World Congress Center.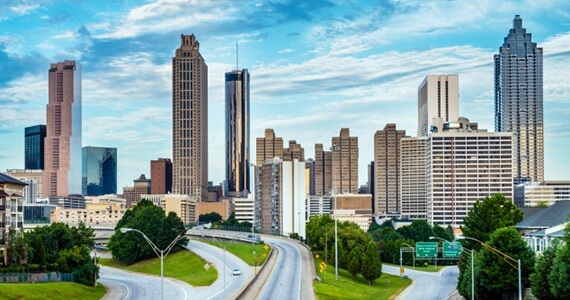 Georgia World Congress Center Equipment Rental Products
Other Georgia Convention Centers
Savannah International Convention Center
One International Drive . PO Box 248,
Savannah, Georgia 31402


Jekyll Island Convention Center
1 Beachview Dr.,
Jekyll Island, Georgia 31527


Augusta/Richmond Co. Civic Center
601 Seventh St.,
Augusta, Georgia 30901