Digital Signage Rentals
If you're looking to attract attention to your business or display important messages or information, a digital sign rental from Rentacomputer.com is a great upgrade from your average stationary display.
Request a Digital Sign Rental Today
Rent a Digital Sign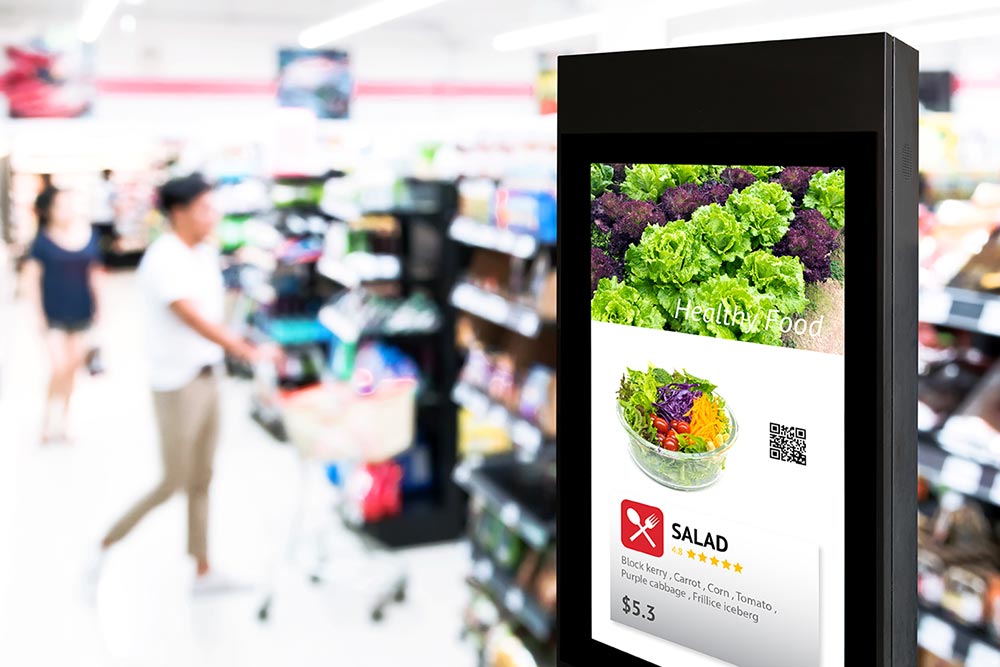 Why Should You Rent a Digital Sign?
Digital signage rentals are available daily, weekly, and monthly.
Available in a wide range of sizes and mounting options.
Digital sign rentals are hand-delivered to your event venue.
Technicians are available to set up and install your digital sign rental.
Application development is available for advanced digital displays and interactive displays
Common Uses Of a Digital Sign Rental
Digital Signage Rentals Are Great For:
Comprehensive Event Services
Get Our Event Services With a Digital Signage Rental!
Here at Rentacomputer.com, service is the cornerstone of what we do. Along with renting a digital sign, we also provide a full range of event services. From on-site IT to event engagement, we can help you create a fantastic event with a lasting impression. We also can assist with your events registration, production, and software solutions!
Why Rentacomputer.com Is the Best for Portable Digital Signage Rentals
Rentacomputer.com has been a leader in short-term technology rentals for businesses since 1987. Our clients trust us because we provide:
A large selection of industry-leading solutions with the most current technology.
In-house quality assurance testing for performance confidence.
A fast order turnaround with exceptional customer service.
Zero-cost delivery on many orders or local drop-off, setup, and tear-down in numerous locations.
A dedicated rental agent throughout the process.
Around-the-clock remote technical support with on-site help for large events by arrangement.
A consultative approach backed by product expertise.
Cost-effective rentals to clients in all 50 states, Canada, the U.K., Australia, and the EU.
FAQs
Explore the answers to the following common questions.
How Does a Digital Signage Rental Work?
Rentacomputer.com offers a simplified process proven to take the stress out of renting. First, connect with us to get advice or request a quote for the required equipment. We'll create a personalized agreement for the services and products you need. After approval, we'll work with you to schedule your delivery and pickup.
What Are the Business Benefits of Renting Digital Signage?
Renting digital signage technology for your next event has many advantages, including:
An LED signage rental makes your company stand out from the crowd and the competition.
Video displays command attention and engage your guests, especially when interactive.
These solutions are versatile enough to handle many applications, like providing schedules, virtual tours, and games.
Can You Help Me Choose the Best Equipment for My Digital Signage Rental?
Our experts would be happy to help! Contact us, and let your dedicated rental agent know your event's details. They'll guide you to solutions that meet your event's goals and your company's budget.
How Much Does It Cost to Rent Digital Signage?
Rentacomputer.com will provide a customized quote before rental with an inclusive price for the equipment and services you choose. The cost will vary depending on your options and factors like the event's length. We go the extra mile to save you as much as possible with a Frequent Reward Points program, and other discounts may apply. Request a quote online to get started.
Nationwide Digital Sign Rentals Available
For 30-plus years, Rentacomputer.com has been the specialist in obtaining technology for events and temporary business needs. Whether a client needs a computer, digital sign, event, or office equipment, our experienced agents can obtain the equipment and coordinate all the facets of on-site installation. With the help of our agents Rentacomputer.com also specializes in providing event production, staging, and support services for businesses and institutions worldwide. Rentacomputer.com has worked with clients in a multitude of industries and excels at delivering, setting up, and troubleshooting a wide variety of technology.
Find Your State Here
Find The Top Rental Venues Here