Jacob Javits Convention Center Technology Rentals
New York, New York
655 West 34th Street New York, NY 10001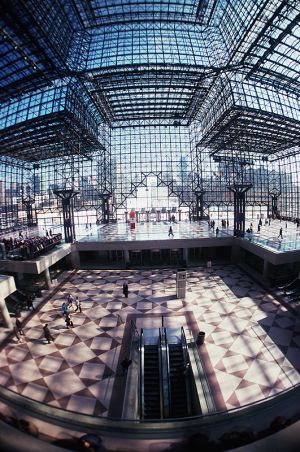 Rentacomputer.com is a nationwide supplier of short term computer, audio visual and trade show equipment rentals. It has always been our great pleasure to offer these services to those attending New York City's most notable convention venue better known as the Jacob Javits Convention Center.
About the Jacob Javits Convention Center
The Jacob Javits Convention Center is one of the largest convention centers in New York City. The Jacob K. Javits Convention Center sits on the west side of Manhattan and sports the space frame architecture and design. This revolutionary convention center was built in 1986 and named after New York Senator Jacob K. Javits, who died that same year. The Javits Convention Center contains over 675,000 square feet , but renovations scheduled for completion in 2010 will place the Jacob Javits Convention Center as the 5th largest convention center in the U.S.
So if you are planning a trip to the Jacob Javits Convention Center, or any destination in New York City, relax and let your Tech Travel Agent book your next computer or audio visual rental need.
Our Tech Travel Agents can reserve the computer or audio visual hardware you need for your New York trade show, conference or event. Even if you are thinking of a small laptop rental, projector rental, plasma rental, or any other single unit short term rental from Rentacomputer.com this can be an intelligent choice as it saves you the worry and hassle of equipment damage and transportation to and from your event.
Of course keep in mind that Rentacomputer.com specializes in large quantity rental orders such as for training classes, large trade shows, or even disaster recovery.
*For more information on technology rentals in New York visit our New York Computer / Audio Visual / And Office Equipment Rental Page!
Top New York Convention Centers
Mid-Hudson Civic Center
Civic Center Plaza
Poughkeepsie, NY 12601

Rochester Riverside Convention Center
123 E. Main Street
Rochester, NY 14604

John H. Mulroy Civic Center
411 Montgomery St.
Syracuse, NY 13202

Oncenter Complex
800 S. State Street
Syracuse, NY 13202
Empire State Plaza
Convention & Tourism Admin. 110
Albany, NY 11242

Buffalo Convention Center
1 Convention Center Plaza
Buffalo, NY 14202

Glens Falls Civic Center
1 Civic Center Plaza
Glens Falls, NY 12801

Niagara Falls Convention Center
305 Fourth St.
Niagara Falls, NY 14303

Rentacomputer.com is not affiliated with or in any way authorized by the Jacob Javits Convention Center. Rentacomputer.com is an independent nationwide technology rental provider and this page in no way implies exclusivity of service to the Jacob Javits Convention Center.