Minneapolis Convention Center Technology Rentals
Minneapolis, Minnesota
1301 2nd Avenue Minneapolis, Minnesota 55403 USA
"Rentacomputer.com delivers right to your trade show booth or event anywhere in Minnesota"
Rentacomputer.com is an independent nationwide supplier of short term computer, audio visual and trade show equipment rentals. It has always been our great pleasure to offer these services to those attending Minneapolis' most notable convention venue better known as the Minneapolis ConventionCenter.
The Minneapolis Convention Center offers one of the best meeting solutions in all of Minnesota and is one of the largest convention centers in the state. The Center is Located deep in the heart of Minneapolis and is a major hub for the city. With over 480,000 square feet of total meeting space, 87 column frre conference rooms. a 28,000 square foot ballroom and a fully equipped auditorium, the Minneapolis Convention Center is big enough to accompany even the largest meetings and conferences.
So if you are planning a trip to the Minneapolis Convention Center, or any destination in Minneapolis, relax and let your Tech Travel Agent book your next computer or audio visual rental need.
Our Tech Travel Agents can reserve the computer or audio visual hardware you need for your Minneapolis trade show, conference or event. Even if you are thinking of a small laptop rental, projector rental, plasma rental, or any other single unit short term rental from Rentacomputer.com this can be an intelligent choice as it saves you the worry and hassle of equipment damage and transportation to and from your event.
Of course keep in mind that Rentacomputer.com specializes in large quantity rental orders such as for training classes, large trade shows, or even disaster recovery.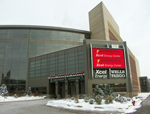 Xcel Energy Center - Saint Paul, Minnesota
Also known as "The X", the Xcel Energy Center was built as a multipurpose and entertainment facility and has become one of Americas most advanced sporting arenas. Ranked number 1 "Best Stadium Experience" by ESPN magazine in 2003 and 2006 The X has become a premiere exhibition center and was even the home of the 2008 Republican National Convention. On average the Xcel Center serves over 150 different sporting events annually.
Rentacomputer.com is not affiliated with or in any way authorized by the Minneapolis Convention Center. Rentacomputer.com is an independent nationwide technology rental provider and this page in no way implies exclusivity of service to the Minneapolis Convention Center.