Xcel Energy Center Technology Rentals
Seattle, Washington
199 West Kellogg Boulevard Saint Paul, MN 55102
"Rentacomputer.com delivers right to your trade show booth or event anywhere in Saint Paul"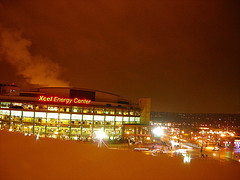 Why Chooose Rentacomputer?
Rentacomputer.com is an independent nationwide supplier of short term computer, audio visual and trade show equipment rentals. It has always been our great pleasure to offer these services to those attending Saint Paul, Minnesota's most distinguished convention venue better known as the Xcel Energy Center.
Our Tech Travel Agents can reserve the computer or audio visual hardware you need for your Saint Paul trade show, conference or event. Even if you are thinking of a small laptop rental, projector rental, plasma rental, or any other single unit short term rental from Rentacomputer.com this can be an intelligent choice as it saves you the worry and hassle of equipment damage and transportation to and from your event.
About the Xcel Energy Center
The Xcel Energy Convention Center, located in the city of Saint Paul and affectionately called "The X", is one of America's most advanced sports arenas. The Xcel Energy Center was built as a one-of-a-kind multipurpose sports and entertainment facility and is located in downtown Saint Paul where there are several other attractions such as the Saint Paul RiverCentre complex, and the Roy Wilkins Auditorium.
Grossing in over 650,000 square feet, the Xcel Energy Center is home to the NHL's Minnesota Wilde, and the NLL's Minnesota Swarm and features more than 150 entertainment events annually. With four separate concourses on four seating levels, the Xcel Center is known as being extremely fan friendly, seating over 18,000 people for a hockey game. The Xcel Center has also been ranked Number 1 for "Best Stadium Experience" in 2003 and 2006 by ESPN Magazine.
This year, the Xcel Center will be the host of the 2008 Republican National Convention which will be held from September 1-4, 2008. There will be an anticipated 45,000 delegates, volunteers, party delegates, reporters, guests, and officials in attendance. Saint Paul will be showcased on an international level and will play host as the Republican Party nominates the next President of the United States.
If you are planning a trip to the Xcel Energy Center, or any destination in Saint Paul, relax and let your Technology Travel Agent book your next computer or audio visual rental need.
Of course keep in mind that Rentacomputer.com specializes in large quantity rental orders such as for training classes, large trade shows, or even disaster recovery.
Top Minnesota Convention Centers
Mayo Civic Center
30 Civic Center Dr. SE
Rochester, MN 55904
Saint Cloud Civic Center
10 Fourth Avenue, S.
Saint Cloud, MN 56301
Saint Paul Civic Center
143 W. Fourth St.
Saint Paul, MN 55102
Willmar Civic Center
2707 Arena Dr.
Willmar, MN 56201
Duluth Entertainment Convention Center
350 Harbor Dr.
Duluth, MN 55802
Grand Rapids IRA Civic Center
Third Ave, NW & 14th Street
Grand Rapids, MN 55744
Minneapolis Convention Center
1301 Second Avenue S.
Minneapolis, MN 55403
Xcel Energy Convention Center
199 West Kellogg Boulevard
Saint Paul, MN 55102
Rentacomputer.com is not affiliated with or in any way authorized by the Xcel Energy Center Rentacomputer.com is an independent nationwide technology rental provider and this page in no way implies exclusivity of service to the Xcel Energy Center.