Miami Beach Convention Center Technology Rentals
Miami Beach, Florida
1901 Convention Center Dr. Miami Beach, FL, 33139
"We deliver to your Miami Beach trade show booth or conference."
Rentacomputer.com is an independent nationwide supplier of short term computer, audio visual and trade show equipment rentals. It has always been our great pleasure to offer these services to those attending Miami's most convention venue better known as Miami Beach convention center.
The Miami Beach Convention Center opened its doors over 50 years ago in 1957, and since then has served as the heart and soul of the Miami Beach waterfront. Cassius Clay, better known later after he changed his name to Muhammad Ali, knocked out Sonny Liston for his first Heavyweight Championship title here in 1964. The Republican National Convention called the Miami Beach Convention Center home in '64, and in 1972 both the Republican and Democratic National Conventions were hosted there.
The facility has paid for near continuous upgrades and renovations over the year, including one in 1989 that doubled the effective size of the Center. Most recently a total revamp of all the facility's telecommunications and networking infrastructure took place in an effort to make it more attractive to high-tech trade shows and conferences. Some of the typical rentals available include but are not limited to: LCD & Plasma Rentals, Laptop Rentals,Projector Rentals, Audio Visual Rentals, Wireless Microphones, Amplifiers and Staging and Event Equipment. These items and more are available by the day, week, or month to help with your short term Miami Beach Convention Center Rental needs.
Sit back and relax and let a Tech Travel Agent from Rentacomputer.com handle your needs at your next Miami Beach Convention Center event.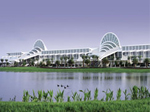 Orange County Convention Center - Orlando, Florida
The beautifully designed and lavishly furnished Orange County Convention center hosts nearly two dozen of the largest trade shows in the United States yearly, making it the second most popular convention center, trade show and conference venue in the country. The facilities are comprised of two separate buildings, totaling up to over 7 million square foot of display space.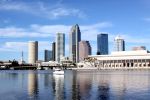 Tampa Convention Center - Tampa, Florida
Located directly on the waterfront and with an excellent view of the city skyline, the Tampa Bay Convention Center is known for its beautiful facilities and peaceful atmosphere. The convention center is also renowned for its windowed meeting rooms which allow the warm sunshine to light up the meeting rooms. The facility currently offers over 200,000 square feet of exhibition space, a 36,000 square foot ballroom, additional meeting rooms, and over 84,00 square feet of public space.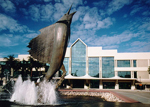 Fort Lauderdale Convention Center - Fort Lauderdale, Florida
The Fort Lauderdale Convention Center is located on the Intracoastal Waterway, surrounded by everything that there is to do in South Florida. The Fort Lauderdale Convention Center has three levels of state-of-the-art technological services. Some of Fort Lauderdale Convention Center services are teleconference facilities; high speed wireless internet access, digital phone lines and business grade telephonic services.
Rentacomputer.com is not affiliated with or in any way authorized by Miami Beach convention center. Rentacomputer.com is an independent nationwide technology rental provider and this page in no way implies exclusivity of service to the Miami Beach convention center.