Tampa Convention Center Technology Rentals
Tampa, Florida
333 S. Franklin Street Tampa, Florida, 33602
Tampa Convention Center Rentals & Services
The Tampa Convention Center is known for its excellent view and peaceful atmosphere. Located directly on the waterfront, and with an excellent view of the Tampa skyline, the convention center is also renowned for the warmth and light the Florida sunshine brings as the rays come directly into the meeting rooms. The Tampa Convention Center also has a very unique architectural design which showcases the beauty of its surroundings and is also complemented by vibrant and bustling downtown atmosphere.
The facility offers over 200,000 square feet of exhibit space, a 36,000 square foot ballroom, an additional 42,000 square feet for meeting rooms and over 84,000 square feet of public space making the Tampa Convention Center a very flexible and accommodating venue.
The Tampa Convention Center is one of our top venues. Rentacomputer.com delivers and services a wide range of
Computer and Audio Visual Rental equipment for the Tampa Convention Center
, such as: Large Screen LCD & Plasma Rentals, Desktop Computer Rentals, Laptop Computer Rentals, File Server Rentals, LCD Projector Rentals, and more!
*Rentacomputer.com is not affiliated with or in any way authorized by the Tampa Convention Center. Rentacomputer.com is an independent nationwide technology rental provider and this page in no way implies exclusivity of our services at the Tampa Convention Center.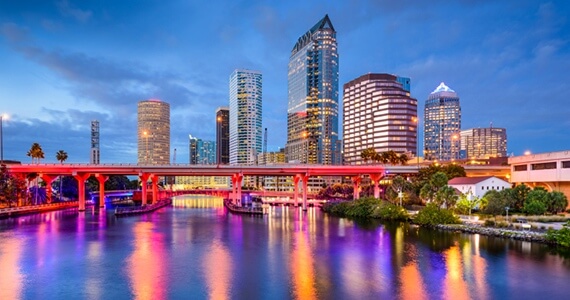 Tampa Convention Center Equipment Rental Products
Other Florida Convention Centers
Orange County Convention Center
9899 International Drive,
Orlando, FL 32819


Miami Beach Convetion Center
1901 Conventer Center Dr,
Miami, FL 33139


Fort Lauderdale Convention Center
1950 Eisenhower Blvd,
Fort Lauderdale, FL 33316