Copier Rentals For Tax Season
Client Comments:
"I sent the 6500 lumen projector and short lens back yesterday. They worked very well! Thank you sooooo much!" - Joan from Nebraska
"Thank you so much for the service. This was a seamless process and everything worked great." - Shawn G from Archbold, OH
"Just want to say thank you once again for everything. The computers were great! They made all the difference in the training." - Ted from Charlotte, NC
Why Rent A Copier For Tax Season
Copier Rentals make perfect sense when you need an extra copier for tax season! Our Copier Rentals are available to rent for a day, a week, a month or even longer.
Black & White or Color
Color copying takes more time, uses more ink, and the copier is more expensive. At the same time, color copying is essential if you need to make color-coded graphs. If the copier is just going to be used to print off black and white documents, then go with a black and white only copier.
Copier Versatility
A good copier doesn't just copy papers. A copier worth getting can also do index cards, transparencies and other types of media. Versatility in a copier is a crucial, and it is essential to rent a copier that can handle anything you need from it. A good feature to look for is a flatbed copying surface so the copier can copy pages from books and manuals as well.
The Most Common of Rentals During Tax Season:
Printer Rentals for Tax Season
Printer rentals are great for tax season so that you can augment document production capacity for producing the mountain of documents that tax season typically calls for. Let your Tech Travel Agent help you get through tax season!
Fax Machine Rentals for Tax Season
During tax season, you often have to send a lot of information out to others. Having an extra fax machine makes this task so much easier, and you don't have to purchase superfluous technology.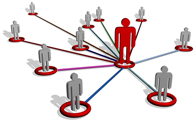 Network Rentals for Tax Season
Our agents can even rent entire networks, including computers, servers, and office equipment all networked together to prepare you for the upcoming tax season.