Technology Rental Services in Boston, Massachusetts
Everything you need from a technical standpoint with one point of contact, your Tech Travel Agent®. Call toll free 800-736-8772. Your single source for Boston based technology and technicians.
Client Comments:
"Just wanted to thank you for a job very well done last week. The delivery process was extremely smooth, the laptops worked perfectly, and there were absolutely no problems. This makes my job much easier- so thank you!" - Patrick from Washington DC
"Thank you Randy, I really appreciate your help with our projector rental for our training session!" - Jennifer D. from San Diego
"Thank you Darcy - you really are providing marvellous service." - Rachel E. from Melbourne - Australia
Technology rental services also offered in all surrounding areas, including:
Boston, Cambridge, Dorchester, Dorchester Center, Dorchestr Ctr, East Boston, Grove Hall, Mission Hill, Roxbury, Roxbury Crossing, Roxbury Xing, South Boston, Uphams Corner, and Suffolk County
Why Boston is a great place for your next conference, convention or meeting:
Since 1630, Boston has been considered a part of the backbone of the United States. Today, Boston is one of the top financial cities in the country and is also one of the most popular. A major tourist city, tourism comprises a large part of Boston's economy accumulating $7.9 billion in 2004.
Aside from tourism, Boston is also a very popular city for education. The colleges and universities of Boston have a major impact on the city and region's economy with students contributing nearly $4.8 billion annually to the city.
Due to the popularity of Boston's schools, the city has also attracted major high-tech industries. Boston is home to a number of technology companies and is a hub for biotechnology. The Milken Institute rates Boston as the top life sciences cluster in the United States. With its technological advances and growing popularity, it is evident why Boston is one of the top computer rental cities in the country. Not scheduling at least one conference, convention or meeting here would definitely be a big mistake.
Desktops
,
laptops
,
servers
,
tablet PCs
, and more! Any type of computer system you need, we can rent it to you! With delivery to every state in the US and over 1000 cities worldwide, Rentacomputer.com can handle any computer rental need you have in Boston.
Projectors
, monitors,
plasmas
, sound systems, lighting systems, staging, pipe & drape, video walls, electronic copyboards, kiosks, cameras, and security cameras! Any kind of audio-visual equipment you might need at your event, Rentacomputer.com can rent it to you.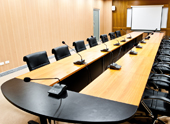 If you are holding an important meeting, setting up a training seminar, planning a conference, convention, or tradeshow, let our agents handle the logistics of acquiring and setting up the technology that you need so that you can focus on your New York event and ensure its success.
2 Tech-Army Troops In Boston, Massachusetts
Rentacomputer.com employs the Tech-Army Organization to provide support for its customers all over the country. We have 2 Troops in Boston, Massachusetts that are prepared to serve any computer rental need that may arise.
Boston Convention Center
The Boston Convention and Exhibition Center (BCEC) is the largest convention center in the Northeast United States, measuring over 516,000 square feet of contigious exhibition space. The convention center is also located near the Boston waterfront and near the Logan International Airport making it a very popular destination.